England captain Andrew Strauss ended his long wait for a century with a polished unbeaten 121 to lead his team to 259 for three on the second day of the first Test against West Indies at Lord's on Friday.
Strauss reached three figures in a Test for the first time in 18 months, England finishing 16 runs ahead of the touring side with seven wickets remaining and in complete control of the match.
Strauss's watchful innings was studded with trademark attacking strokes, crisply-timed drives through the covers, powerful cuts and firm shots off his legs.
He hit 19 fours in his 20th Test century, sharing a second-wicket partnership of 147 with Jonathan Trott who scored 58.
England fast bowler Stuart Broad had struck with the first ball of the day to dismiss West Indies for 243, removing Shannon Gabriel for a golden duck to complete Test-best figures of seven for 72.
Shivnarine Chanderpaul was left stranded at the other end, 13 runs short of his 26th Test century after another brave attempt to hold together the West Indies brittle batting order.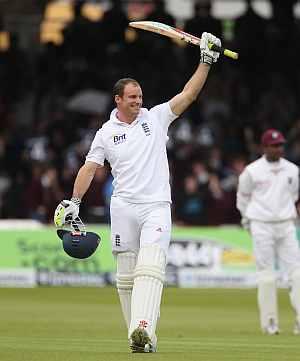 Strauss and Alastair Cook shared an untroubled opening partnership of 47 before the latter, on 26, tried to pull a short ball from Kemar Roach and dragged it on to his stumps.
Strauss and Trott took England to 80 for one at lunch and the pair continued to accumulate cautiously in the afternoon session, both reaching fifty.
West Indies captain Darren Sammy rotated his four-man pace attack but Fidel Edwards, Roach, Gabriel and Sammy failed to extract much life from a placid pitch.
The hosts took tea on 167 for one with Strauss on 78 and the pressure started to show as he neared three figures.
On 95, he was dropped by Chanderpaul at slip off a no ball from Edwards and Trott's dismissal could have further unsettled him, the right-hander nicking a sharp catch to wicketkeeper Denesh Ramdin off the persevering Sammy.
Strauss played and missed several times before gleefully cutting Sammy to the third man boundary to complete his fifth Test century against West Indies.
The left-hander embraced partner Kevin Pietersen warmly, removed his helmet and held his bat aloft to all sides of the ground, the relief evident after a poor run of form which has raised doubts about his place in the team.
Pietersen showed positive intent from the start of his innings of 32 as England looked to push on.
He got off the mark with a fierce pull through mid-wicket and struck five boundaries with typically flamboyant strokes before feathering a catch to Ramdin off part-time spinner Marlon Samuels.
Ian Bell joined his captain for the last few overs and was unbeaten on five at the close.
Scorecard
West Indies (1st innings): 
A. Barath c Anderson b Broad 42 
K. Powell b Anderson 5 
K. Edwards lbw b Anderson 1 
D. Bravo run out 29 
S. Chanderpaul not out 87 
M. Samuels c Bairstow b Broad 31 
D. Ramdin c Strauss b Broad 6 
D. Sammy c Bresnan b Broad 17 
K. Roach c and b Broad 6 
F. Edwards c Prior b Broad 2 
S. Gabriel c Swann b Broad 0 
Extras: (b 6, lb 8, nb 3) 17 
Total: (all out; 89.5 overs) 243
Fall of wickets: 1-13, 2-32, 3-86, 4-100, 5-181, 6-187, 7-219, 8-231, 9-243
Bowling: J. Anderson 25-8-59-2, S. Broad 24.5-6-72-7 (3nb), T. Bresnan 20-7-39-0, G. Swann 18-6-52-0, Trott 2-0-7-0.
England first innings
A. Strauss not out 121
A. Cook b Roach 26
J. Trott c Ramdin b Sammy 58
K. Pietersen c Ramdin b Samuels 32
I. Bell not out 5
Extras (b 9, lb 1, nb 7) 17
Total (for three wickets; 80.2 overs) 259
Fall of wickets: 1-47, 2-194, 3-244
Bowling: F. Edwards 17.2-0-52-0 (2nb), K. Roach 15-2-59-1 (4nb), S. Gabriel 14-1-38-0, D. Sammy 22-1-66-1 (1nb), M. Samuels 12-3-34-1