'They have got high quality spin attack. There's nothing that happened today from a pitch or their bowling point of view that surprised us'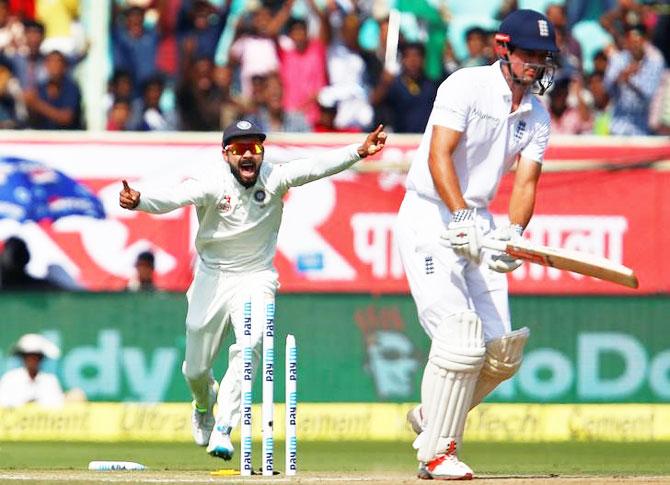 IMAGE: India captain Virat Kohli (left) celebrates the dismissal of England's Alastair Cook on Friday. Photograph: Danish Siddiqui/Reuters
With England gasping for breath after losing half their side on day two, assistant coach Paul Farbrace said he was not surprised by how the day panned out at Visakhapatnam on Friday.
- Ashwin 'carries a psychological advantage' over England
In reply to India's 455 runs, England were struggling at 103/5 at stumps on Day 2, still 352 behind as Ravichandran Ashwin (2/20) picked two crucial wickets and debutant Jayant Yadav (1/11) chipped in with one from seven overs.
"We knew it would be tough. We knew it's going to turn. We knew there would be variable bounce. That's what you expect. They have got high quality spin attack. There's nothing that happened today from a pitch or their bowling point of view that surprised us," Farbrace said.
"We knew India would bounce back, there's no point regretting about it. There's no point making any excuse. We got to adapt and adapt quickly if they're going to have a long international career.
"There was that period where we looked like we got a bit frenetic, we didn't cope particularly well and those are times when you've got to show a little bit more resilience and fight," he added.
England suffered a big setback with their man in form Joe Root getting out for 53 while Haseeb Hameed (13) was also run out cheaply.
Farbrace said the players had to show more collective application with the bat.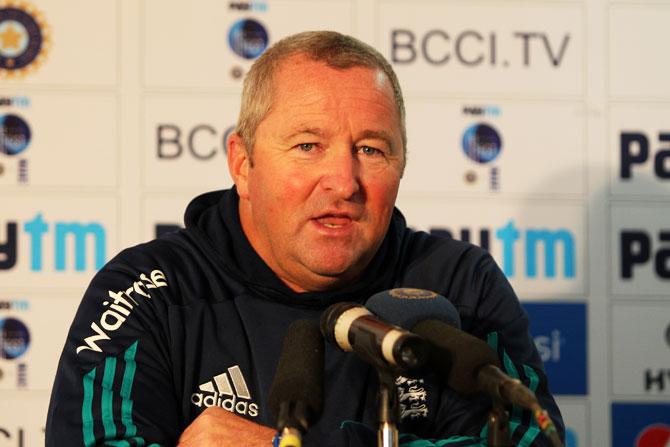 IMAGE: England's bowling coach Paul Farbrace at a press conference on Friday. Photograph: BCCI
"What we've got to do is cope better under pressure. We had a period today which was meek and mild, a bit soft. We've got to get these periods out. Having fought back this morning, it's not a position we want to be in. It's pretty disappointing," he said.
"The key thing for tomorrow morning, and it is a very old cliche, is that we bat until drinks in that first hour and if Stokes and Bairstow can show the same courage, guts and good application of technique it will become slightly easier.
"Whatever conditions you play in you have to believe that the longer you are there, the easier the conditions become and the more accustomed you come to them," he said.
Ben Duckett was dismissed for five, deceived by Ashwin's off-spin as he continued his disappointing start to his Test career with an average of 18.33 in four matches.
Coming out in support of Ben, Farbrace said: "Ben is working incredibly hard, he has worked at the ball spinning away from him. He's got to make those adjustments. The best players are those who make those changes.
"In these conditions, against a quality bowler like Ashwin, it's not easy. We know India are a quality side. They've had the better of conditions here and they've made better use of them."