India skipper Mahendra Singh Dhoni on Monday said that the players showed character through their performances in the ongoing five-match ODI series after the disastrous tour of England in the not-too-distant past. 
"I'm glad we're the winning side, it's really good. Well of course the series in England wasn't a good one for us, but the team showed character not to lose temper and still be sociable on the field," Dhoni said after India beat England by eight wickets to take a two-nil lead in the series. 
Though there was no devil at the Ferozeshah Kotla track, Dhoni said he would have preferred a little more turn.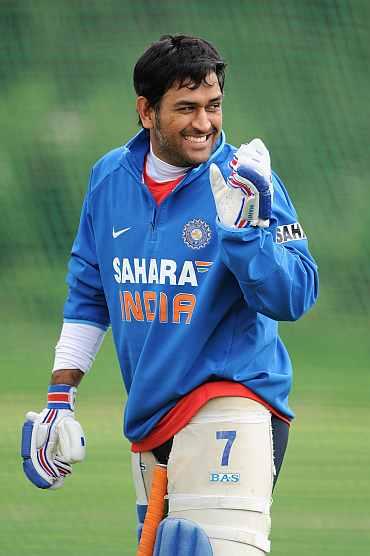 "The pitch was a bit too placid, I'd prefer a bit more turn. I think a turning wicket is a sporting track in India. But this was a good ODI wicket." Asked if he is looking for a whitewash, Dhoni said," For us it's all about winning one game at a time, improving ourselves as cricketers, especially with youngsters in the side." 
As far as the result was concerned, the India skipper felt the start was crucial to his team's success. 
"We needed a good start, Vinay (Kumar) and Praveen (Kumar) gave us that with early wickets. We never let them get a partnership together." Dhoni did not not forget to praise Virat Kohli (112 not out) and Gautam Gmbhir (84 not out) for their efforts. 
"I think Gautam played brilliantly, and Virat, we all know, is a strokeplayer once he sets in. Gautam's innings at No. 3 was crucial, the ball was still moving a bit when he got in."
England skipper Alastair Cook said they would need to pull up their socks to make a comeback in the series. 
"We would like to do everything differently. We got a lot of 30s and 40s (today) but we know that doesn't win a game," Cook said. He felt his team is not able to replicate the performance of the warm-up games in the ongoing series.
"We prepared well in the practice games, but we haven't translated that to the main games. We need to score more  runs, and our fielding wasn't quite to standard. 
"Virat and Gambhir showed us how it's done. Credit to the way they played." Man of the Match, Kohli said he was desperate to perform in front of his home crowd. 
"It's especially satisfying playing at my home ground. I was really keen to perform at my home ground, really happy
with the way I batted," Kohli said. Asked about the track, he said, "The pitch did a bit early and the English bowlers were getting some bounce early on, but it was coming on to the bat beautifully. 
"On this kind of wicket if you play good cricket shots you can get boundaries. I'm definitely hungry for more, you never know when you can hit a bad patch. I want to continue my form as much as I can, but stay humble in the process."