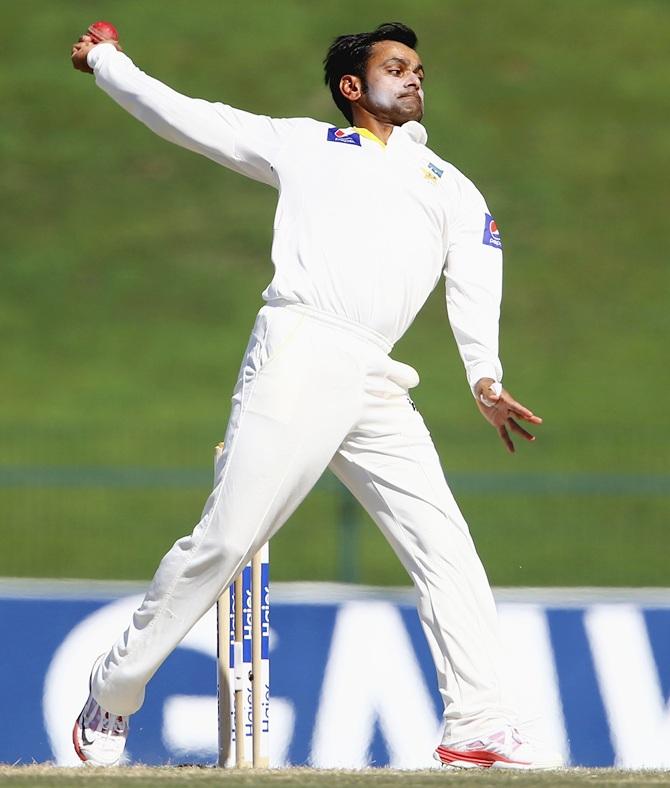 Image: Mohammad Hafeez of Pakistan bowls. Photograph: Francois Nel/Getty Images
In a massive blow to Pakistan cricket, all-rounder Mohammad Hafeez was suspended by the ICC after his bowling action was found to be illegal in bio-mechanic tests on Sunday.
"The International Cricket Council confirmed that an independent analysis has found the bowling action of Pakistan's Mohammad Hafeez to be illegal and, as such, the off-spinner has been suspended from bowling in international cricket with immediate effect," the ICC said in a statement.
The 34-year-old all-rounder was reported by the match officials during Pakistan's 248-run victory in the first Test against New Zealand in Abu Dhabi.
The 34-year-old Hafeez was tested last month at the Loughborough testing center, one of ICC's latest accredited laboratories.
"The analysis revealed that all his deliveries exceeded the 15 degrees level of tolerance permitted under the regulations," the ICC said.
"Hafeez can apply for a re-assessment after he has modified his bowling action in accordance with clause 2.4 of the Regulations for the Review of Bowlers Reported with Suspected Illegal Bowling Actions," it added.
The analysis of his action was performed on November 24 by the ICC's accredited team of Human Movement Specialists using the National Cricket Performance Centre, Loughborough.
Despite being under suspicion, Hafeez had been named in Pakistan's preliminary squad of 30 for next year's ODI World Cup in Australia and New Zealand.
It is a major embarrassment for Pakistan cricket given that one of its most celebrated spinners Saeed Ajmal is also under suspension for a similar reason and working to modify his action.