'ICC must ask Thakur to explain in what capacity does he give his statements on Pakistan.'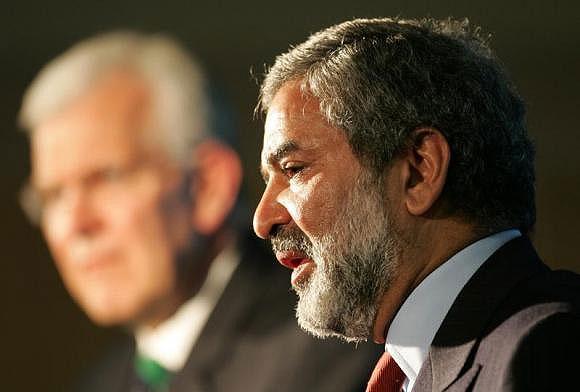 IMAGE: Former president of the International Cricket Council (ICC) Ehsan Mani. Photograph: Toby Melville/Reuters.
Former International Cricket Council president Ehsan Mani has criticised BCCI chief Anurag Thakur for his "inflammatory" comments on Pakistan and asked the PCB to push for India to be stripped off hosting ICC events.
Mani said on Tuesday night that Pakistani cricket officials should come strong at the ICC executive board meeting in Cape Town next week.
- Pak sponsors terror, no cricket possible: BCCI
"The Indian Cricket Board President, with his immature and inflammatory statements, has given an opening to Pakistan to plead its case more effectively at the ICC meeting," he said.
Mani said that the Pakistan delegation should also demand that the ICC should ask the BCCI president to explain his position in making his statements against Pakistan.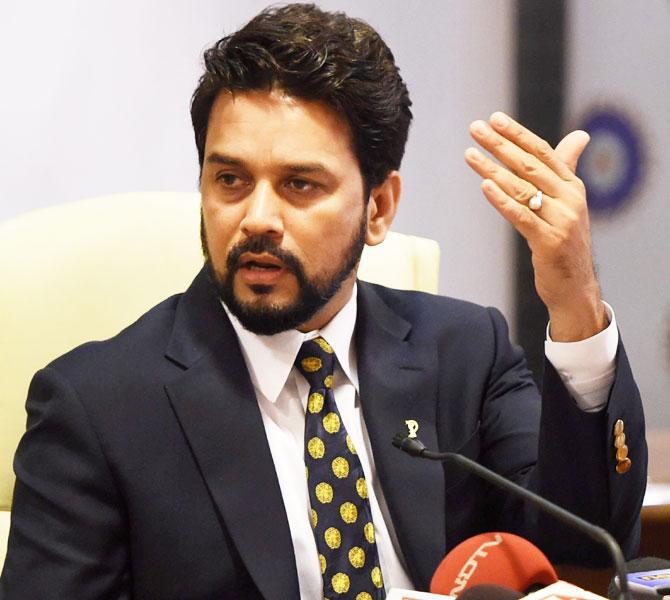 IMAGE: BCCI president Anurag Thakur during a press conference. Photograph: PTI.
"Anurag Thakur is a politician and member of parliament of the ruling party and the ICC must ask him to explain in what capacity does he give his statements on Pakistan or any other cricket issue," Mani said.
"They must ask him to explain his position since the ICC constitution clearly forbade any of its own officials or those of member countries to make statements that bring the game into disrepute and that is what Thakur has done in his statements," the former ICC chief said.
- Miandad has not recovered from shock over Pak's defeat: Thakur
Mani said for the last two years he had been advising the Pakistan board to stop playing India in the group stage of ICC events.
"Now India is talking about not playing us in group stages of ICC events. The truth is that the ICC earns a lot from these Indo-Pak matches in its tournaments and India takes home the lions share under the big three governance formula.
"Yet they don't want to have bilateral cricket ties with us."
Mani said that Pakistani cricket officials for years had been following a policy of appeasement with India because they wanted resumption of bilateral cricket series.
"But now it is clear there is lot of negativity from the Indian cricket board and even otherwise the situation is tense. So this is the best time for Pakistan to make its point at the ICC meeting."
A PCB official recently confirmed that due to India not playing against Pakistan since 2007 in a full bilateral series, it had suffered losses to the tune of more than USD 100 million.
Najam Sethi, the former chairman of the PCB, who now heads the executive committee, told the media in Lahore that they planned to give a befitting reply to India's recent threats to not play Pakistan in ICC events.
"Yes we have been reading these statements and we will give them a strong response at the ICC meeting," Sethi said.
Sethi will be attending the ICC board meeting with CEO, Subhan Ahmad since chairman Shaharyar Khan, a former career diplomat, remains indisposed as he is recovering from a heart surgery.