- 'In IPL you can get away with a lot of things. But to select proper Test or 50-over cricketers on IPL performance, I don't think would be right.'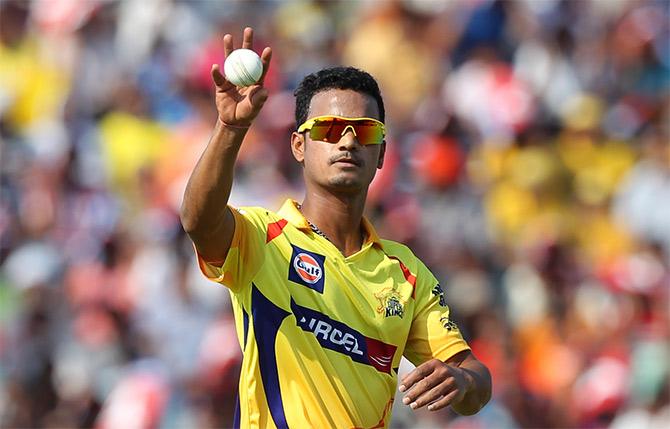 IMAGE: Pawan Negi during an Indian Premier League match. Photograph: BCCI
India's limited-overs' captain Mahendra Singh Dhoni says the Indian Premier League should not be the yardstick to pick players for the hard grind of international cricket, particularly Tests and One-Day Internationals.
He feels the cash-rich IPL T20 tournament can, at best, be termed a good place to spot emerging talent.
"I have always said IPL is a platform where you find the talent. After that you follow them in domestic circuit and see how well they are performing.
"In IPL you can get away with a lot of things, but to select proper Test or 50-over cricketers on IPL performance, I don't think would be right," said Dhoni in Pune on Monday, the eve of of India's opening T20 International against Sri Lanka.
Dhoni, who will be leading newly-formed IPL franchise team Rising Pune Supergiants in the ninth edition of T20 tournament in April-May, also spoke about the Maharashtra Cricket Association's International Stadium at Gahunje, which will be the team's home venue.
"The wicket here is a bit more settled now. It's not a very big ground, it's a decent-sized ground and the straight boundaries are not very long. Though it's a bit away from the city, the crowds come in big numbers and are also very supportive."
He said he has other reasons to like Pune as a venue.
"It has been a special ground. I am fond of dogs and there are a lot of dogs at this ground," said the 2011 World Cup-winning captain, referring to the two dozen dogs of different breed that are housed inside the stadium structure.
Dhoni, who is an honorary lieutenant colonel in the Territorial Army, said he also likes to visit the city which is the headquarters of the Indian Army's Southern Command and also has an Indian Air Force base station.
"And when you come here you also have the opportunity to see fighter planes. There is more to do here than playing cricket. These are good attractions. The crowd also supports you well," he said.
(NOTE: Lead image used for representational purposes only)