Former India captain Anil Kumble stated that his suggestion of one bowler getting to bowl 12 overs in a 50-over game in domestic cricket will only make it a "better contest" between bat and bowl.
"Yes, I suggested to the technical committee was that one bowler should be allowed to bowl 12 overs in a 50-over game. I'm glad it was accepted in today's meeting. I believe that 12 overs for one bowler in the One-Dayers will not only provide a better contest between bat and ball but will also bring in more room for strategising for the captains," India's highest wicket-taker in Test cricket told BCCI's official website bcci.tv.
- New rules won't affect me: Kumble
"It will affect in a way they plan, analyse and will make an impact on the batting team, be it chasing targets or setting them up," Kumble added.
Kumble feels that the captains' conclave that has been organised by the BCCI has also helped in making better decisions.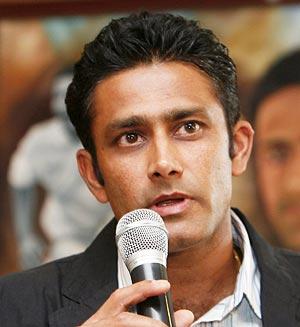 "It certainly helped in making better decisions. The suggestion of playing more number of Ranji Trophy games came from the captains and coaches. With this new format, every team will play minimum eight matches which is a great thing. Another suggestion was to make the Duleep Trophy more meaningful.
"Hence, the technical committee has recommended that the Duleep Trophy should be the first tournament of the domestic season. That will act as a huge motivation for the players playing in the tournament as they get more than a fair chance of staking their claim for a spot in the national team," he was quoted as saying by the website.
Asked about objective behind doing away with existing Elite and Plate group format, Kumble replied, "This format brings in more competition as teams will have equal chance of making it to the top two of their respective groups. We believe the home and away format gives that incentive for the state associations to organise four home matches in the centres they want."
"As the president of the Karnataka State Cricket Association it gives me the opportunity to take the game outside of Bangalore and develop it in the smaller centres."
The 41-year-old Kumble feels that it was necessary to change the quarter-finals, semi-finals and the final of Ranji Trophy from four day affairs to five days.
"That decision was made in order to give teams a better chance to go for an outright win. There are instances when a team misses out on the first innings lead by a few runs. In a five-day game, you have enough time to catch up and go on to win despite giving away the first-innings lead."
The veteran of 132 Tests and 271 ODIs also admitted that there is an urgent need to prepare better wickets at the domestic level.
"Yes. The recommendation of ensuring good wickets for the domestic matches was fruitful. Now the Cricket Pitches Committee will put together a team of 10 members -- instead of five earlier -- which would go around the country and ensure the quality of pitches is good for all domestic matches."