Sourav Ganguly served Indian cricket with great distinction. Regarded as one of the greatest captains the country has seen, he triggered a revolution that saw the team emerge from the status of poor tourists to one of the best in the last decade.
The left-hander was also a dangerous batsman, with the ability to hit boundaries and sixes with ease. He played 113 Tests and 311 ODIs for India, scoring 7,212 runs and 11,363 runs respectively before hanging up his boots in 2008.
Since his retirement from international cricket, he played in the Indian Premier League, and domestic cricket for his state, Bengal. He also distinguished himself as a television commentator in the last couple of years.
On Friday, Ganguly delivered the fourth Dilip Sardesai memorial lecture to a packed gathering at the Bombay Gymkhana, where he paid tribute to the late former India great. After the lecture, he gave his views on numerous issues, including the impact of Twenty20 cricket on the Test format, the future of spin in India and why Sachin Tendulkar should continue playing for another few years.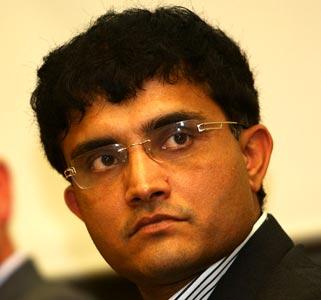 Do you think a new grammar of cricket will evolve soon, where there is no concept of batsmen taking time to get set and just getting on with the game?
I think that is bound to happen, and that has already happened. Over the years, a lot of Test matches finishing in results... and we saw the recent India-New Zealand two-Test series finish in four days and the last two days finish quickly in sub-continental conditions.
We see Test match hundreds being scored at a much faster rate than when I started playing Test cricket in 1996. So, with the advent of T20 cricket, it has enhanced the speed of One-day cricket and Test cricket.
With the advent of T20 cricket, bowlers have started to take it as one-ball at a time. Would that affect them as they make the transition to Test cricket, because, increasingly, we are seeing players move from T20 to Test cricket rather than the other way around?
That can happen in Twenty20 cricket. In Test cricket, it is the session after tea; it is at what pace you bowl at; you are judged on the basis of that. It is good to bowl at 140 (kmph) on the first day, and maybe in the session after lunch, but to be judged as a good bowler and a captain's bowler it is the session after tea.
T20 cricket does put a lot of pressure on the bowler in terms of the number of runs scored and the way the bowler has developed has other qualities. What has added to a bowler's repertoire is bowling different deliveries under pressure, but the longetivity or fitness of a bowler, or how good he is, will always be judged in the longer format.
Do you see newer deliveries coming into Test cricket because of T20 cricket?
Yes, but not the extent they change in Test cricket, because the pressure on a bowler in T20 cricket is completely... it is about stopping runs, and in Test cricket it is completely different because it is about taking wickets, although I have always believed the best way to stop runs is about taking wickets.
T20 cricket does add variety to a bowler, but sometimes that variety is not required in Test matches. Test cricket requires running in all day, bowling at pace and bowling in the right areas, bowling six deliveries to a batsman and putting pressure on him.
It does give you variation in one format, but what we see in the main format of the game, the format which will justify your playing for India; you need a lot more ability to keep coming along.
Is captaining in Twenty20 cricket significantly different?
It is significantly different, because when I captained India nobody asked me anything and I didn't have to answer anybody after the day's play. But when I captained the IPL teams I had to answer the owner before the game and after the game, and I am telling you seriously that is enormous pressure.
When you lose the game, the first thing when you get back to the hotel is think 'what am I going to answer? Why didn't Ashok Dinda bowl the slower ball at that moment?' So there is enormous pressure on someone who is in T20 cricket nowadays.
Is it easier to captain India in T20 matches than the IPL teams?
It is much easier to captain India; much, much easier! I captained India for six years, but I never had the opportunity of the Board president or the chairman of selectors picking up the phone and telling me that you should have done this at this time.
In the IPL, I had switched my phone off twice, but they still find you, because there are so many people around you, they somehow manage to find you.
Is the IPL a place now to search for cricketers, or is Ranji Trophy still the place to search for cricketers?
I still see Ranji Trophy as the place to search for good cricketers, especially in the Test format, because it is completely different skills. IPL will produce players for that format and the 50-overs format, and if I am a selector and picking players for India then I will give a lot of importance to Ranji Trophy, Duleep Trophy and Irani Trophy performances to pick players for the Test side.
You have played a lot of first class cricket since retiring from international cricket in 2009. What is the state of first class cricket in India?
It has improved rapidly in all departments. When I played Ranji Trophy first, it was a completely different atmosphere and now it is a lot more organised. Playing at Eden Gardens is an absolutely different experience, because you get to play at one of the best grounds in the world. I was part of the BCCI technical committee and the pitches was one of the area we had to address, and having played Ranji Trophy in the last two years I feel that there is a big improvement in the condition of the pitches and how the players are looked after.
That is a big improvement that BCCI has made with regards to domestic cricket.
Test cricket was always well looked after, always served well, because that is something everyone wanted to a part of, but first class cricket has also undergone a massive improvement in India.
Has the quality of spin bowling gone down in first class cricket?
I have played in an era of Anil Kumble and Harbhajan Singh and I am not a person who likes to compare. We have had the greats, like Erapalli Prasanna, Bishen Singh Bedi and BS Chandrashekhar, and now Kumble and Harbhajan, whose wicket tally is a bit more than the names I mentioned before.
Now, when I see R Ashwin and Pragyan Ojha bowling in a Test series against New Zealand, though they have some more distance to go with England Australia coming, I don't feel the cupboard is empty. The problem is that we Indians are such good players of spin in domestic cricket that a good spinner can sometimes be made to look average in those conditions and against those players who have been born and brought up against spin bowling.
But every time those players graduate and play Test cricket they look a different bowler. Looking at Pragyan (Ojha) and Ashwin, and with Harbhajan sitting out, I have always said that if India has to pick three spinners in the current scenario, then Harbhajan definitely walks into the squad. I really don't feel the cupboard is empty.
Do you feel the current generation is has good players of spin bowling as the earlier generation?
Yes, definitely. They play differently; they are a lot more aggressive. You look at Dravid or our era, when we started playing cricket; we would not hit so many balls in the air. We were taught that way. Our coaches would say that 'listen if you have to hit a spinner, hit him along the ground'.
When I see a young Virat Kohli or a Mahendra Singh Dhoni on the field, you see their attitude on the field and you feel that it is a different generation, a different breed of players.
Some of India's great spinners in the past said they honed their skills by bowling on flat pitches to great batsmen in India. Do you see that happening more in domestic cricket?
I watched this team playing in Australia and England last year and it was disappointing. When I spoke of Dilip Sardesai, Ajit Wadekar and even our era with the record India had overseas, winning in England, Australia and West Indies; when you see that team losing eight out of eight Test matches, including four against an Australian team, which I would not say was the best Australian team on the park in that series, you just get a feeling that probably time has come when lot of these young spinners need to bowl on flat pitches and non responsive pitches to learn the art of bowling overseas.
We are losing a lot of fast bowlers, either they are getting injured or losing pace. Why is that happening?
That is bound to happen. There is so much of cricket being played today, like Test matches, ODIs, T20s and IPL... the cricketers are on the road all the time. Fast bowling is a difficult art; it is not like a batsman whose physical impact on the body is much lesser than a fast bowler.
Also, the training culture in India is a bit different. Since 2000 the main reason for having overseas coaches and trainers in India was to get a proper fitness culture and a training culture. I remember, in my 1996 tour to England, I went to the gym only once and that was only to see it, not to use it. It was a three-month tour and I had an outstanding tour, averaging nearly 100, and the great Rahul Dravid had an outstanding tour for his first tour, but I could not remember going to the gym and getting on the treadmill. That culture needed to change because you don't get a great Kapil Dev all the time -- who bowled fast for India for such a long period.
The training culture needs to change and I have said this before also, that every fast bowler in India needs a personal trainer. The finances are not a problem, they can afford it; they should have a personal trainer with them right through the year. When you are training alone, there are times when you take the easier approach, but there should be someone who is with you all the time looking after your strength and monitoring all the time.
When you see Zaheer Khan in 2000 or Munaf Patel in 2004, they clocked almost 150, but two years down the line they settled down to line and length bowling, which is, I think, because of lack of physical strength.
You can see the impact, because in 1996 you just saw the gym and by 2009 you had your personal gym at your house. Isn't it?
Yes, because otherwise they would drop me, saying you don't run, you don't train. It was a bit like having a sofa at home. If you have a gym at home, it means you are training; you actually go or not, it doesn't matter.
How is it that despite going to MRF Pace Foundation wanting to be a fast bowler, you ended up as a batsman?
Actually, I was told by Dennis Lillee that batting is a better option for me. Sachin Tendulkar was with me on that MRF Pace Foundation camp and we shared the room. I didn't even know he was Sachin Tendulkar; he was just another young boy and we shared the room and this was, I think, in 1987-88.
We had come there to learn to bowl fast. They were lot of fast bowlers in that camp and there were no batsmen. And, on day three, when Dennis Lillee saw both of us bowling some loose deliveries, swinging away from the right-handers, he said why don't you pad up, since there are no batsmen in the nets. And Sachin then batted in the nets for half an hour, and we both came out of the nets and followed the coach.
We were in a stage where we were trying to impress the coach and I heard Dennis Lillee tell Sachin that batting is a better option for him than bowling, and he was absolutely right. He definitely had an eye for Sachin, don't know about me.
The downside of T20 cricket is a drop in the quality of technique, and the upside is that a lot more Test matches are producing results. According to you, which is the better option?
Obviously, in an era where Test cricket is being questioned and everyone talks about day-night Test matches, I think results are very important. They bring crowds back to the grounds. India played New Zealand in the last two Test matches in Hyderabad and Bangalore and there were 25,000-30,000 people watching. And that's only going to happen if there are results in Test matches.
Coming to the technical point of view, I think, it depends on the individual. When you look at players around the world, like Kevin Pietersen or Jacques Kallis who play all forms of the game and are good in all forms of the game, you see them adjusting. That's the biggest challenge for batsmen in the modern era -- adjusting to different formats of the game.
Watching Sachin Tendulkar play all formats of the game, I could see that he was using ODI cricket to stay in form. His record in all forms of the game is phenomenal, but he used the shorter format of the game to stay in form for Test cricket and the longer format. I think T20 or ODIs help you become better at Test cricket.
I don't think there is any reason why if you can hit the ball out of the park in T20 cricket, you can't do the same in Tests as well.
What was the mindset when you took over as skipper and what was the challenge ahead of you?
When I first started playing cricket in 1996, we were not the best travellers abroad. You could see that there was a certain disrespect when you went to England, Australia and South Africa -- there was a feeling that these boys are soft. They'll come to this part of the world, you'll see a hundred from Sachin, you'll see a hundred from Dravid, but they'll lose. They might get a draw but we will win the series, and I could make out while walking around the dressing room that the confidence wasn't there; the knowledge wasn't there of how we could beat England in England or Australia in Australia. That had to change.
I was also blessed as captain to have an era of terrific Test players -- Sachin, Dravid, VVS Laxman, Virender Sehwag, Anil Kumble... because I am a firm believer of a captain being only as good as his team. You can take the best captain in the world, but if you don't have a good team then you will go nowhere. And the perfect example is Ricky Ponting. You look at his record when (Mathew) Hayden, (Adam) Gilchrist, (Glenn) McGrath and (Shane) Warne were playing and once they retired. It's like chalk and cheese.
I can tell you that in my time as captain there have been Test matches where I have just gone and stood at point and I would give the ball to Anil and Harbhajan and they would put their field accordingly and we would win Tests. And I am sure that happens even now. But it didn't happen overseas. We didn't have the batting, the knowledge, the batting toughness to put 500 runs on the board to win a Test when we went abroad. But, I think, for us the win in 2001 at Kolkata turned that around. We beat them in good conditions and that was great for us. The basic thing was to get that belief in the team that we will have to win overseas to be considered a good side.
That celebration at Lord's when you took off your shirt in the balcony of the pavilion after India won the match. Did you enjoy it?
I didn't enjoy it. It's like you make mistakes in life and they don't go away. I still don't enjoy it every time I see it on TV and I tell myself 'I have Test hundreds, ODI hundreds, why can't they show that!' I don't know why I did it.
You had some interesting chemistry with one former Australian skipper [Greg Chappell] and one is sure he comes in your dreams and your nightmares. So if you ever take over as coach what is the one thing that you wouldn't do that he did, and the one thing that you would do?
His knowledge as a batsman was terrific. When you speak to him one-to-one about batting, he was fantastic. But there are loads of things which I wouldn't follow. But if you ask me one thing that I wouldn't follow then I am firm believer that the team belongs to the captain.
If you were the coach, would you tell a captain what to do?
I am a firm believer that cricket is run by the captain. Whoever is the coach, he has to take the backseat and has to help the captain to run the team. Once you cross the field and walk into the field, it is the captain.
Sachin Tendulkar has not been playing in One-dayers consistently in the last few years. Do you think he should play more ODIs?
It's really up to him. He knows his game better than all of us. You also have to understand that at 39, he is not getting any younger. If he is starting the season, he will probably play more to get into the rhythm for Test cricket, because he has the liberty to pick and choose, and very rightly so because he is probably the best ever in world cricket. He will take the right decision at the right time, but I firmly feel that he should concentrate more on Test cricket.
What makes you believe that Tendulkar can continue for a few more years?
There are various reasons why I believe that he can still play. I have not seen any slowness in his body. This is not the first time I have seen him get bowled, and I am sure he will find a way around this; he always has.
He is a big match player, big team player and when England and Australia come on tour he will do well.
I am sure that people are asking him to go.... this will hurt him and a player as big as him will respond to it. And having seen him, played with him, you want to believe that he isn't done yet. Whenever he goes, I hope he goes on a high, and that is important for everyone, especially for the great man.