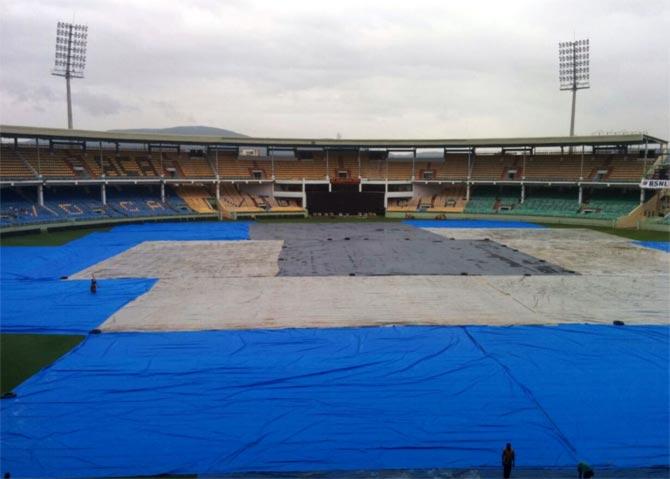 The Dr Y S Rajasekhara Reddy ACA-VDCA cricket stadium in Visakhapatnam.
The Board of Control for Cricket in India ruled out the possibility of shifting the India vs West Indies third One-Day International out of Visakhapatnam despite the threat of cyclone Hudhud which is expected to hit the Andhra Pradesh coastline on Sunday. BCCI secretary Sanjay Patel pointed out that it is difficult to change the venue at such a short notice citing logistical problems involving television crews and other necessary arrangements.

"It's difficult to shift the venue at such a short notice. The cricketers itinerary may be changed but there would be logistical problems like TV (television) crew and other things. We're however alert on this," BCCI secretary Sanjay Patel said on Saturday.

As per Indian Meteorological Department (IMD) warning, the cyclone is likely to hit Visakhapatnam by Sunday afternoon, hitting the coast at a wind speed of 170-180 kmph. Heavy to very heavy rainfall and squally winds are also expected.

Andhra Cricket Association secretary Gokaraju Gangaraju said the entire outfield is under covers and not a single drop of water would seep into the ground at the Dr Y S Rajasekhara Reddy ACA-VDCA cricket stadium.

He said if it does not rain on the match day there will be no problem in conducting the match.

"The entire ground is fully covered. There's not a question of water getting into the pitch. Besides, we have excellent drainage facility to get it ready in time," Gangaraju said.

Recollecting last year's experience, he said, "We had a similar situation ahead of the last ODI here (between India vs West Indies on November 24, 2013). There was no rain and the match was held without any problem. So this sort of a situation is not new to a coastal city like Vizag."

Asked whether he has a word with the BCCI, he said, "The Board has full faith in our capabilities. The match is on."

Despite the cyclone threat, fans had been looking for tickets.

"All the tickets have been sold out within half an hour after the ticket sales began yesterday afternoon," Gangaraju said.