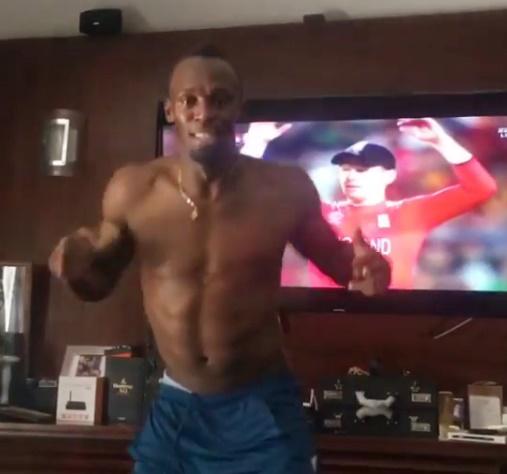 IMAGE: A video grab of Usain Bolt doing 'The Champion' dance. Photograph: Instagram.
Usain Bolt celebrated the West Indies' World T20 triumph by dancing to Dwayne Bravo's famous song, The Champion, but also took the opportunity to jokingly mock fellow-Jamaican Chris Gayle.
Throughout the 'unofficial' West Indian victory song, the world's fastest man recorded himself saying, "Marlon is champion, Samuels is champion, Carlos is champion, Bravo is champion, Gayle a champion and West Indies is a champion."
At the end of the song, though, he says, "Gayle is a loser" and begins to laugh at the camera.
However, it is common knowledge that Bolt and Gayle are close friends and the Olympic sprint great was just taunting the left-handed opener!
For a format that encourages big hits to maximise entertainment value, it was perhaps fitting that the World Twenty20 final against England culminated with Carlos Brathwaite blasting four sixes in a row to win it for West Indies.
When the 27-year-old Barbadian's final shot soared into the stands at a raucous Eden Gardens, on Sunday, the undeniable attraction of cricket's youngest competition was given a thumping seal of approval with a breathtaking closing sequence.