India's former captain Sourav Ganguly had to endure the ultimate humiliation of not being sold at the 2011 Indian Premier League Players' Auction, but his successor Rahul Dravid did manage to make the cut.
His beloved fans in Bangalore, though, will be disappointed that their team, Royal Challengers Bangalore, could not sign up the veteran right-hander.
The Bangalore team owner, Vijay Mallya, pointed out that though he had the highest respect for India's second-most successful Test batsman, their policy of recruiting youngsters came in the way of getting the senior pro in their ranks.
The right-hander was snapped up by 2008 champions Rajasthan Royals for 0,000.
"I have known Rahul as a little boy, because, as you probably know, his father worked for the UB Group. I have a lot of affection for him and the greatest of respect towards his cricketing achievements. This time, after having had an experience of the IPL for three years, we consciously decided we want a young team. We made that decision and we were ready to live with the consequences of that decision. If you see, all our players are youngsters and we probably have the youngest team in the entire IPL," he said.
It is not clear what the business tycoon meant by a "young team", since seven out of his 15 signings at the auction -- Zaheer Khan (32 years), Tillakaratne Dilshan (34), Daniel Vettori (31), Charl Langeveldt (36), Johan van der Wath (32), Dirk Nannes (34) and Mohammad Kaif -- are aged above 30.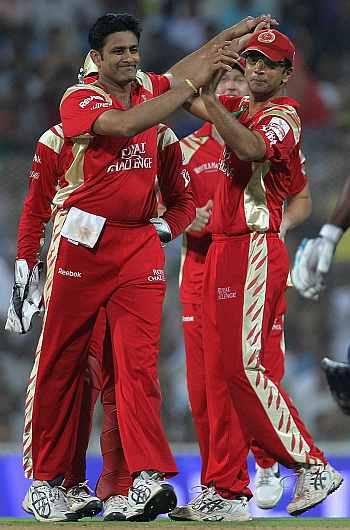 "I am glad that Rajasthan bid for Rahul and I wish him all the luck. But, then, conversely, you also have to acknowledge that Ganguly, [Brian] Lara, [Chris] Gayle ... they are all top class cricketers of a particular era, but nobody bid for them; so that tells you something.
"So no disrespect to anyone of them, no disrespect to Rahul in particular. I am full of admiration for Rahul, it just that we needed to follow our strategy of building a young team and at the end of the day I could say, maybe, I could not afford it," he added.
Mallya pointed out that former India and RCB captain Anil Kumble had played a major role in all their purchases.
"We were given inputs by none other than Anil Kumble, who is now the chief mentor of the team and works with us full time on RCB. He is such a legend and such a competent person in his own right. No wonder he is chairman of the National Cricket Academy. The fact is that he took it upon himself to say that he would groom these youngsters. I just don't look at them for 2011, but I look at them for 2012," Mallya said.  
"I believe that after that we have an option to retain them for 2013 and that is what trying to build because that ensures consistency.
"So it was for that reason, and also that the players we wanted went for such high prices that we almost ran out of cash. The bottom line is that we made a few last-minute bids today and I think I have the least amount of cash left, just about enough for uncapped Karnataka players," he added.
He also declined to reveal who they plan to select as captain.
"We could choose anyone as the captain. We have Daniel Vettori and a few others. I leave that to Anil Kumble and he will decide on this matter," he said.