Inzamam-ul Haq may be banned by the International Cricket Council, and the Pakistan team surely missing his inspirational captaincy. But his look-alike is the cynosure of eyes in Jaipur.
Mukesh Sukhwani, a resident of Ulhasnagar, Thane, with green Pakistan cap and matching jersey, drew quite a crowd outside the Sawai Mansingh stadium just before the start of Pakistan's first match in the Champions Trophy against Sri Lanka on Tuesday.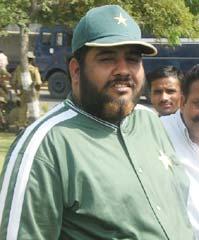 And, needless to say, the man enjoyed all the attention he received.
Asked what he does for a living, Sukhwani plainly replied: "I'm a model!"
Maybe, a face like that could be earning him the bucks!
---
The Shiv Sena's attempts to disturb the Champions Trophy match involving Pakistan and Sri Lanka in Jaipur were foiled by the police on Tuesday.
More than a dozen activists demonstrated outside the Sawai Mansingh stadium, protesting against the Pakistan team playing on Indian soil.
Shiv Sena supremo Bal Thackeray had said his partymen would not allow the team to participate in the tournament. In a hard-hitting article in Sena's mouthpiece Saamna on Sunday, he wrote: "We have been saying for years now that there should not be any cricket match between Pakistan and India. We are also cricket lovers but not at the cost of our national pride."
He cited the July 11 train blasts in Mumbai, in which nearly 200 persons were killed, and asked: "How will the country progress if we are not even able to demonstrate our condemnation of Pakistan's terrorist activity by boycotting cricket match with it?"
With security in beefed up and the police in full strength, all plans were foiled. In fact, the handful of activists that turned up were hardly able to raise a din.