The murmur in the BCCI corridors is about the timing of such a recommendation when she is a part of the Supreme Court-appointed COA running Indian cricket.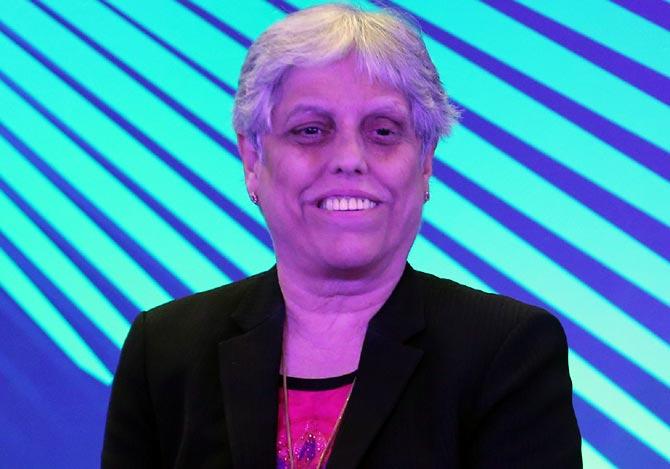 The Board of Control for Cricket in India on Saturday recommended former Indian women's team captain Diana Edulji for the prestigious Lifetime Achievement Award, an honour she declined citing her current role in the board as a Supreme Court-appointed Committee of Administrator (COA) member.

A three-man BCCI panel had recommended Edulji for the Lifetime Achievement Award alongside the late Pankaj Roy, former India opener and coach Anshuman Gaekwad, and former India women's captain and coach Sudha Shah.
However, soon after the BCCI announcement, Edulji took the call of not accepting the award.

"Since I am a member of the Hon'ble Supreme Court appointed committee of administrators of the BCCI, I do not think it is appropriate for me to accept this honour at this juncture," she said in a statement.

"I have discussed the decision with my family, friends and well wishers who wholeheartedly support my decision not to accept the award during my tenure as a member of the COA. In fact, I had made my decision very clear last year as well when my name was suggested for this honour."

The panel that send the recommendations comprised eminent journalist N Ram, acting president CK Khanna and acting secretary Amitabh Choudhary.

"Nevertheless, I would like to thank the Members of the BCCI awards committee for considering me worthy of this prestigious honour," Edulji added.

Edulji and Roy were chosen for the 2016-17 period while Gaekwad and Sudha Shah will be honoured for the 2017-18 cycle.

Abbas Ali Baig, late Naren Tamhane and late Bhudi Kunderan will get special recognition during the awards ceremony to be held ahead of the one-off Test between India and Afghanistan in Bengaluru in June.

Last year when Shantha Rangaswamy got the Lifetime Award, Edulji and COA members were party to the decision unlike this time. In fact, Edulji was part of the panel that recommended the names alongside Ramachandra Guha and N Ram.

She is one of the most accomplished women cricketers from India. She played in 20 Tests and 34 ODIs in a career spanning over 17 years, taking 63 and 46 wickets respectively.

She played at a time when the game was run by Women's Cricket Association of India (WCAI) which was mostly cash strapped and couldn't arrange for international matches.

While Edulji's contribution as a pioneer of women's cricket movement in the country is unquestionable, there were murmurs in the BCCI corridors about the timing of such a recommendation as she is a part of the COA headed by former CAG Vinod Rai.

Rai was asked if this is a case of Conflict of Interest.

"The committee is headed by Mr N Ram. I didn't even know the recommendations. It doesn't come to us at at all," said Rai.

A veteran BCCI official said: "No one can ever question Diana's contribution towards growth of women's cricket in India. After Shantha, she is a logical choice as there aren't too many great women cricketers of yesteryears.

"But she is being recommended at a time when she is one of the figure heads of BCCI. Conflict of Interest is not about direct conflicts but about perceptions.

"Whenever I see these situations, I feel bad for Roger Binny, who was dumped from selection panel as his son Stuart is an active cricketer. Roger also used to recuse himself when Stuart's name would come up," the official added.

Meanwhile Pankaj Roy's son Pronab, himself a former Test player, was ecstatic to hear the news.

"Dad would have got emotional had he been around. We as a family always felt that my father always got his recognition late. But better late than never. My mother will be overjoyed to hear this news," he said.

Roy played 43 Tests scoring 2442 runs with five hundreds. He will always be remembered for his world record opening stand of 413 runs with Vinoo Mankad against New Zealand in Chennai (Madras) in 1956. The record stood for 52 years.