'The last four-five years, I have batted at 6, and there is always some kind of pressure so I have not been able to bat freely'
'I would like to bat slightly up in the order'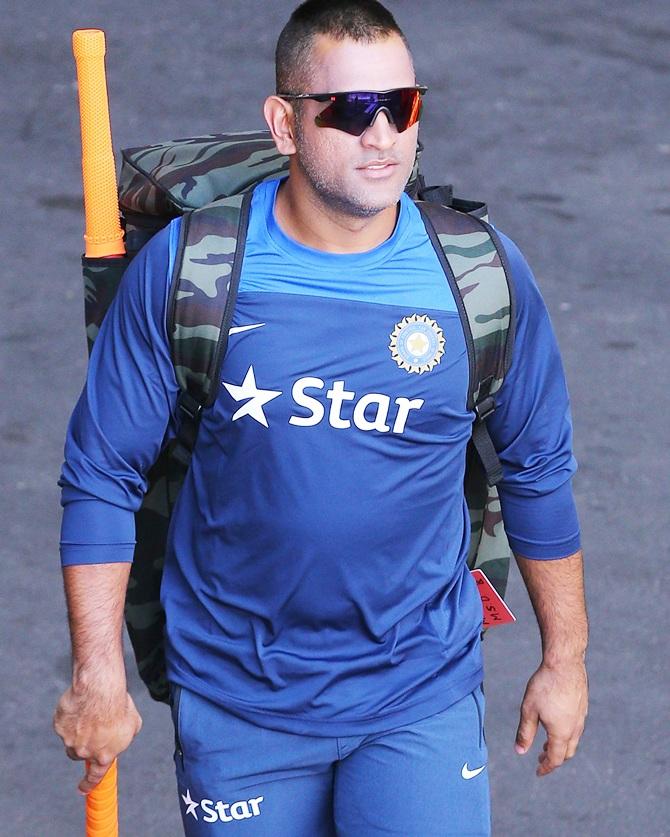 India captain Mahendra Singh Dhoni walks to the nets during a training session. Photograph: Michael Dodge/Getty Images
India slumped to a new low as they suffered their first ever One day International series defeat against Bangladesh. The two time World Champions were outplayed in virtually every department in the first two ODIs against Bangladesh, but captain Mahendra Singh Dhoni defended the squad members.
Dhoni doesn't want 'anybody' to fill in as coach!
Dhoni sarcastically offers to quit
Dhoni, who made a valiant 47 in India's six-wicket loss on Sunday, promoted himself to number four in the batting order but failed to accelerate when wickets fell in a heap at the end of the innings. The wicketkeeper-batsman though hinted that the move can be a long-term one.
"The whole idea was for me to go up and play more freely. The last four-five years, I have batted at 6, and there is always some kind of pressure so I have not been able to bat freely. I wanted to get set and bat freely, but when I got set we lost wickets. Then we had to build some kind of partnership before we could go after the bowlers, then again we lost a couple of wickets. It was not really possible," he said.
"I would like to bat slightly up in the order so I can play a bit more freely. Yes I have adapted to what the team needed of me since 2006, but for the longer run it is important for us to see who is a good batter at No 6, at 7 or even maybe 5. That is why I dropped (Suresh) Raina (down the order). He has been successful at that slot," he added.
"This is the best lot of players we have," Dhoni said.
"What we have to think about is, if we are playing in the subcontinent whether we want to go in with the extra spinner, whether we really want fast bowlers who bowl quick but are not good with line and length. At times we have seen they can really go for runs.
"If you see Bhuvi (Bhuvneshwar Kumar), he is not exceptionally quick but even when the batsmen are scoring fast he gets away with it. The only problem is, if he doesn't take wickets the other bowlers are not smart enough to get away with the kind of bowling they do. Overall you have to see what is the best balance and accordingly you move forward," he added.
Often accused of persisting with allrounder Ravindra Jadeja, who scored 19 at No 7 and failed to bag a wicket in his 7 overs, Dhoni not only defended his Chennai Super Kings teammate but also gave a cricketing justification for his preferred selection.
"We use every bowler according to his potential. I don't like to bowl him in the first 10, but after that he has bowled for us consistently, in the second Powerplay and even in the slog. I have used him late in the innings, and he has bowled three decent overs in the Powerplay.
"I feel it is very difficult for someone like him to justify his selection because more often than not they don't get to bat. In the last one year even I have not got a decent chance to bat. The only decent chance you get is when you are four-five down in 20 overs," he said.
"To always come in an international game and expect an individual to score a fifty is not really possible, so it is a difficult one. Also, our top order has done really well so we haven't tested the bottom order.
You can say these two matches our lower order was tested so it is difficult for him to justify his batting. From bowling point of view, in between he was up and down, but later on, during the World Cup he bowled well and after that here he is bowling well," he added.