'I play for the flag; playing for the country is the biggest honour for me'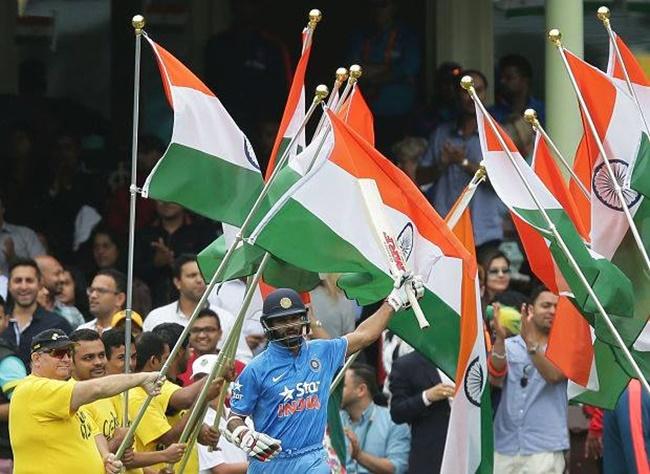 IMAGE: Shikhar Dhawan, centre, is greeted by Indian fans as he walks out to bat. Photograph: Facebook
Indian cricketer Shikhar Dhawan supported the Union Government's move to hoist the national flag on campuses of all 46 Central Universities in order to instill nationalism and pride in students.
"My take is simple. It (flag) should be unfurled at the universities. It (flag) is the pride of the nation. The more the merrier I would say. Though you have touched upon a sensitive topic, one should never say anything ill about the country you live in," said the Asia Cup-bound opening batsman at a promotional event, in New Delhi, on Friday.
Dhawan comments came after he was asked about the sensitive topic in the wake of the arrest of JNU students union president Kanhaiya Kumar on sedition charges, which has led to a massive controversy.
"I was watching kabaddi last night and I subconsciously stood up while the national anthem was played.
"I play for the flag; playing for the country is the biggest honour for me. As citizens, we should take responsibility of our actions," he added.
All 46 Central Universities will fly the tricolour atop a 207-feet tall flag mast 'prominently and proudly' on their campuses to signify a "strong India" and the first will be hoisted at JNU, according to a resolution adopted at a meeting, chaired by Human Resource Development Minister Smriti Irani, on Thursday.
On the upcoming Asia Cup and World T20, Dhawan said he is fit and ready for both the assignments.