Ashwin and Jadeja ensured a six-wicket win for India, as Australia's mindless aggression backfired on a low and slow Kotla track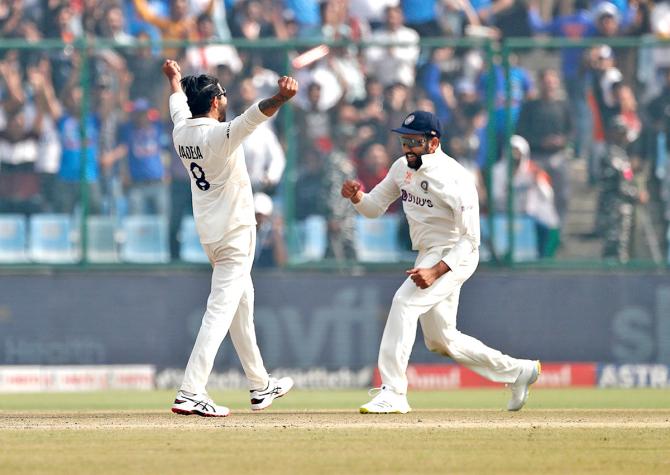 Travis Head's onslaught on the second evening of the Delhi Test had caused 'panic' in the Indian camp but skipper Rohit Sharma had a long chat with his three spinners to ensure the hosts did not waver from their original plans.
With his attacking 39 not out, Head, opening the innings for the first time in the absence of injured David Warner, surprised the hosts and took Australia to 61 for one at close of play on day two of the second Test.
Rohit sensed panic, prompting him to speak to his seasoned spin trio of R Ashwin, Ravindra Jadeja and Axar Patel before start of play on Sunday morning.
In the end, the feared combination of Ashwin and Jadeja ensured a six-wicket win for India, as Australia's mindless aggression backfired on a low and slow Kotla track.
"Sometimes you got to keep it simple and not complicate too much about what is happening. Yesterday they were about 62 (61) for one in 12 overs which is more than five runs per over. I could see we were panicking a little and we were trying to change fields way too many times.
"In the morning, I just wanted to tell those three guys (spinners) to keep it calm. We don't need to change field as often as we did last evening. We keep it there, we keep it tight, and let batters make that mistake."
"I could sense it they wanted to play that way (aggressive) and that wicket was not where you could come out and just keep playing the shots," said Rohit in the post-match media interaction.
Jadeja, who ended with a match haul of 10 wickets, and Ashwin kept on targetting the stumps and Australia self-destructed with the majority of their batters falling to sweep or reverse sweep.
"You got to find balance and try and put them under pressure. If they are playing some shots, we are not going to change our plans as a bowling unit. Axar, Jaddu and Ash have played a lot of cricket in these conditions. You have got to trust them when things are not going your way."
"Those are quality batters as well (Australian batters), they are one of the top teams in the world and there will be times we will be put under pressure. It was about keeping it there and let the pitch do the rest."
Rohit, who himself was swift with his feet movement in his two innings, felt sweep was not the best shot to play in the prevailing conditions. He also said technique is equally important when attacking and not just while defending.
"You need technique to defend as well as attack, including the shots down the ground, sweep and reverse sweep. All the boys playing for India have grown up playing all these shots and defend at the same time."
"On pitches like these, it is very important to have confidence in your own technique. The preparation for that becomes crucial. Ahead of the Nagpur Test, we had 6-7 days and we utilized them really well. We worked on what shots to play and how to play them."
"We were playing in Nagpur on red soil and here we were batting on black soil. Here the sweep was not a very good option, stepping out to the spinners was probably the safer option. That is my view."
"All batters think differently about their batting and you just need to have confidence in the way you play."
"Getting runs is the most important thing. You play 100 balls, 200 balls, but if you consume that many balls, getting runs is also important. For that you need to play shots and we keep discussing about that," said the skipper.
Jadeja, who made a comeback from injury with the first Test in Nagpur, once again showed the immense value he brings to the side.
"He has been brilliant. Comebacks are not easy but the confidence that guy has in his ability. That is massive and you can see it on the field. There were times he was put under pressure but there was no sense of panic. He just kept relying on what he is good at, and he kept doing that."
"He went for more than five runs per over last evening but he knew exactly what the batters were trying to do and was confident to put them under pressure and get them out."

'Big plus to have Axar, Jaddu, Ash in lower-order'
Axar and Ashwin shared a match-turning 114-run stand for the eighth wicket on day two, underlining their importance in the side not just as bowlers but also as batters. Jadeja too has delivered with both bat and ball so far in the series.
"It is a big plus to go as deep as possible. It is something we have been trying to get over for so many years. Luckily in these three guys we have that. Gives you that advantage as well when the bowlers are bit tired, these guys come in and they play some shots as well.
"They are talented and can take on the bowlers and put the pressure back on the opposition. With these three guys it is a blessing for us," added Rohit.