Former India captain Bishan Singh Bedi blasted the Delhi & Districts Cricket Association (DDCA) for not "pulling their weight behind" Mohinder Amarnath, who was dropped as selector after his first season. 
Without naming him, Bedi also didn't spare BCCI president N Srinivasan and questioned the manner in which he functions.
"It would have been an honour for North Zone as Mohinder was supposed to become the chairman of selectors, but got the boot as some people had personal interests," Bedi stated, during a media interaction, organised by Kirti Azad at the Constitution Club.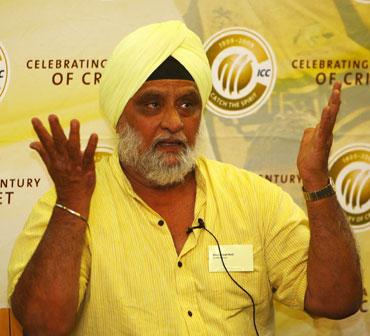 "In BCCI one chap is omnipresent and no one can challenge him. I tell you that is not a good sign," Bedi said, in an apparent reference to Srinivisan, though he did not take his name. 
Bedi accused DDCA sports secretary and former India team manager (tour of South Africa) Sunil Dev of not doing enough at the BCCI AGM, and said he is the man responsible for "ruining Delhi cricket". 
"Could BCCI have done what they have done if DDCA had pulled their weight behind him? Everyone knows about Jimmy's credentials and character, yet it is unfortunate that he did not get support from DDCA. 
"Our honorary president (Arun Jaitley) authorized sports secretary (Sunil Dev) to represent DDCA in the recent board meeting in Mumbai. And what did Delhi get?
"Three posts, including vice-chairmanship of NCA, and membership of umpiring committee went to that man. He (Dev) is the man who has ruined Delhi cricket by masterminding and colluding in activities clearly subversive of cricket," he said.
DDCA general secretary Sneh Bansal, however, refuted the allegations that Amarnath didn't get the association's backing. 
"We had tried our best to convince BCCI on Amarnath issue but the appointment of selectors is parent body's prerogative. We did what we could have done the best," Bansal told PTI.
Bedi said he has found Arun Jaitley to be a "decent human being" but has "complaints about what he has done to Delhi cricket".
Former cricketer Azad, who the most active DDCA critic, furnished documents which showed that Dev had allegedly spent Rs 6 lakh for travelling expenses during the 2010-11 season. 
When questioned, Bansal replied,"Dev had submitted each and every bill. As the head of sports committee, he is supposed to watch the most number of matches and his travel expenses are justified."