Shane Warne tweeted, "Obvious mark on hot-spot, Lyon clearly hit the ball on to his shoulder & he walked off the ground. Ridiculous waste of time & wrong decision."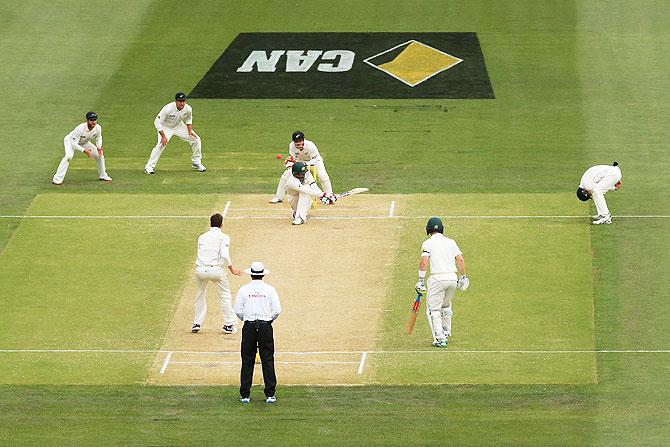 Image: Nathan Lyon of Australia attempts a sweep during day two of the Third Test match between Australia and New Zealand at Adelaide Oval on November 28, 2015 in Adelaide, Australia. (Photograph: Cameron Spencer/Getty Images)
The Decision Review System was again mired in controversy on Saturday during the second day's play between Australia and New Zealand in Adelaide after Nathan Lyon was controversially given a reprieve off an appeal for a catch despite HotSpot clearly indicating an edge.
- Day-night Test, Day 2, PIX: Hazlewood makes Kiwis suffer in Starc's absence
The incident took place in the 54th over of Australia's innings, after the hosts had slipped to 117 for 8 in response to New Zealand's 202.
Lyon attempted a sweep off Mark Craig and the ball ricocheted off his shoulder to first slip. The New Zealand close-in fielders went up in appeal but the on-field umpire adjudged it not out.
After Brendon McCullum called for a review, HotSpot had clearly indicated that the ball had kissed the edge. Lyon saw the replays on the giant screen and proceeded to walk back to the dressing room only to be called back by the TV umpire.
The DRS farce received severe criticism from several former players with even the Australians hitting out at the decision.
Aussie spin legend Shane Warne tweeted, "Obvious mark on hot-spot, Lyon clearly hit the ball on to his shoulder & he walked off the ground. Ridiculous waste of time & wrong decision."
The howler also infuriated former Australian opener Matthew Hayden, whose tweet read, "What more evidence do you need than batsman walking. OMG 2 and half minutes the game will never get back."
Former cricketers hit out at Australia for fielding team masseur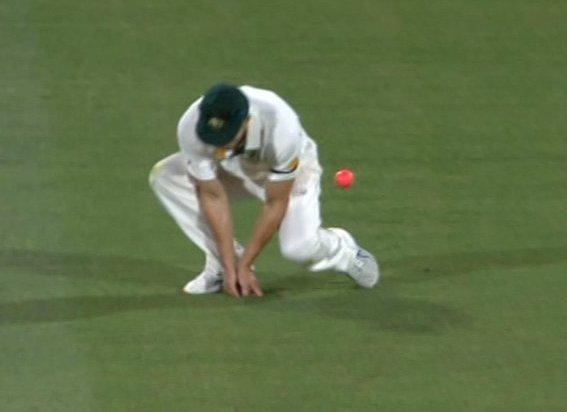 He's the massage therapist who replaced the injured Mitchell Starc on the field on day one.
Grant Baldwin, who is Australia's team masseur, was back in action on day two.
But not everybody was happy to see him on the field, with former cricketers criticising the move following a misfield by the 12th man off the bowling of Mitchell Marsh.
It was the bowler himself who dropped Kiwi captain Brendon McCullum off an incredibly tough caught and bowled chance, but it was the masseur who ended up looking sheepish, letting the ball go through his legs for three runs.
"Why is the team massage therapist out there fielding for his country?" asked Michael Slater.
"Why is he fielding for the Australian cricket team in a Test match?
"What happens if you need a catch to win a Test match and he's in a position where he puts it down? That's unfair," questioned the former Aussie opener.
Baldwin was replaced in the field later in the day by local grade cricketer Luke Robbins.
Image: Australia's team masseur Grant Baldwin misfields during Day 3 of day-night Test between Australia & New Zealand
Photograph: Twitter