- 'Tendulkar and Lara were both destroyers but in different ways. Their personalities are also very different.'
- 'Tendulkar was just a cut above because of his supreme will to bat and bat.'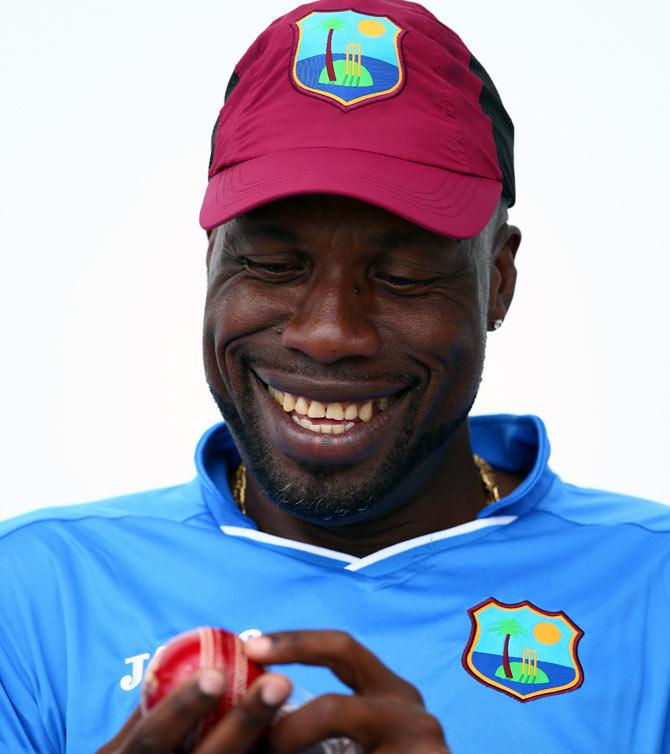 Curtly Ambrose, the bowling coach of West Indies during a nets session. Photograph: Michael Steele/Getty Images
West Indies fast bowling legend Curtly Ambrose says Brian Lara and Sachin Tendulkar were two of the greatest batsmen of their generation, but it is difficult to compare them because both were so different.
"I would never want to compare them in terms of who was the better player because they were so different. Brian Lara took more chances when he was batting and was a bit of a showman. I don't mean that in a derogatory sense, I am simply referring to how he was a crowd pleaser, an entertainer. He would play more shots and be more adventurous in his stroke play.
"Tendulkar will entertain you as well and play some great shots that will make you sit up and watch, but in a less flamboyant manner because he did not like to take chances. They were both destroyers but in different ways. Their personalities are also very different," says Ambrose, in his recently-released autobiography Curtly Ambrose -- Time to Talk -- with Richard Sydenham, published by Aurum.
Antigua-born Ambrose was considered as one of the best fast bowlers of his generation; he took a massive 405 wickets in 98 Tests at an incredible average of 20.66, inclusive of 22 wickets five-wicket hauls and three 10-wicket match hauls.
Despite a long playing career, from 1998-2000, Ambrose played just one Test series against India, a five-match series in the West Indies in 1997.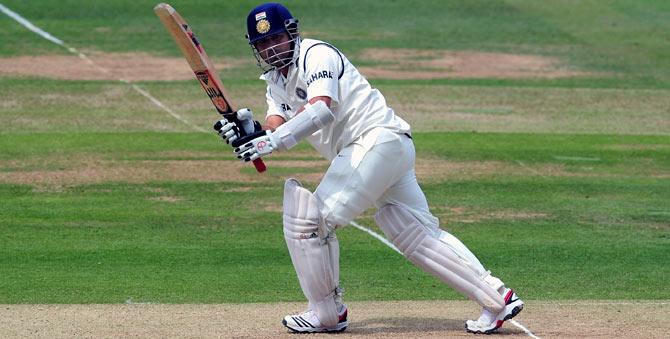 Former India batsman Sachin Tendulkar. Photograph: Stu Forster/Getty Images
The 51-year-old hailed Tendulkar's immense power of concentration and reveals he tried everything but found out that it was almost difficult to unsettle the Indian batting great.
"There are a few tricks we bowlers try to unsettle batsmen but you couldn't ruffle Tendulkar. I still gave him my stare as it was part of my game but I knew it was not going to work because he was such a composed person. You couldn't psych him out. He would go about his business like there was nothing else going on around him, apart from facing that ball. He had serious powers of concentration and I never saw him become emotional. If I saw him play a bad stroke, whereas some guys will hit their bat into the ground or their pads and chastise themselves, the most he would do was walk towards square leg to regain his composure," he says.
Ambrose claims that though Tendulkar played alongside some of greatest batsmen in the Indian team, like Rahul Dravid, V V S Laxman and Sourav Ganguly, he simply stood out because of his ability to bat for a long time.
"I am focusing on Sachin because of his incredible achievements over his career but that is no way meant as any disrespect to his team-mates like Rahul Dravid, V.V.S. Laxman and Sourav Ganguly, who were also fine batsmen.
"Tendulkar was just a cut above because of his supreme will to bat and bat. Dravid and Ganguly were different from Tendulkar because they would give you a chance and would occasionally play at deliveries they should not have played at. Tendulkar's lapses were few," he concurred.