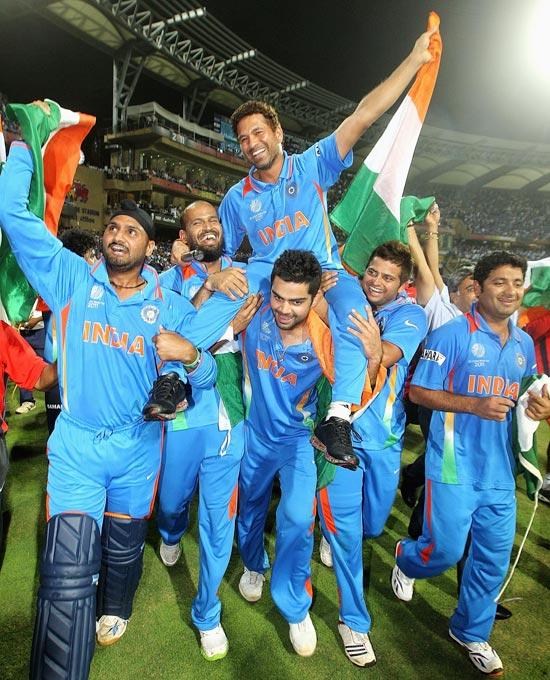 Image: Sachin Tendulkar is chaired around the field by his team-mates as they celebrate winning the 2011 World Cup. Photograph: Hamish Blair/Getty Images
The International Cricket Council (ICC) has asked cricket fans across the world to vote for their favorite moments in the cricket world cups till date as the countdown for the World Cup in Australia and New Zealand 2015 begins.
Over the course of the 100 days leading up to ICC Cricket World Cup 2015, the ICC will release details of the 100 greatest moments in Cricket World Cup history.
Every day from 6 November to 13 February, a different moment will be announced on ICC's digital and social channels. The moments will be released in random order so that fans can decide for themselves the most memorable moments in cricket history.
ICC has also announced prizes to those participants whose Greatest Moment makes the Top 10 shortlist.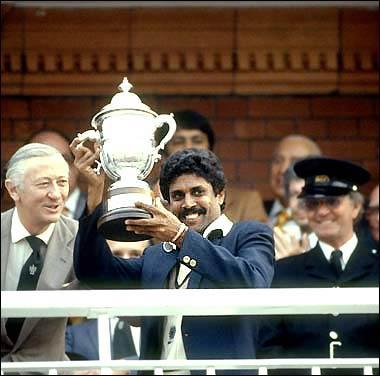 Kapil Dev holds aloft the 1983 World Cup trophy. Photograph: Reuters
Anyone can vote on the official Cricket World Cup website (www.icc-cricket.com) once voting opens or by using the unique Twitter hashtag that will be announced with each moment.
Every one of the 100 moments will only be open for voting for a 24 hour period, so fans will want to log-on every day to make sure they don't miss their favorite moment.
A Top 10 short-list of the Greatest World Cup Moments with the most votes will be announced on the morning of the first match of the tournament on 14th February when Sri Lanka face New Zealand in Christchurch.
A final vote will then take place over 24 hours on 2 March to crown the Greatest World Cup Moment from the first ten Cricket World Cups.