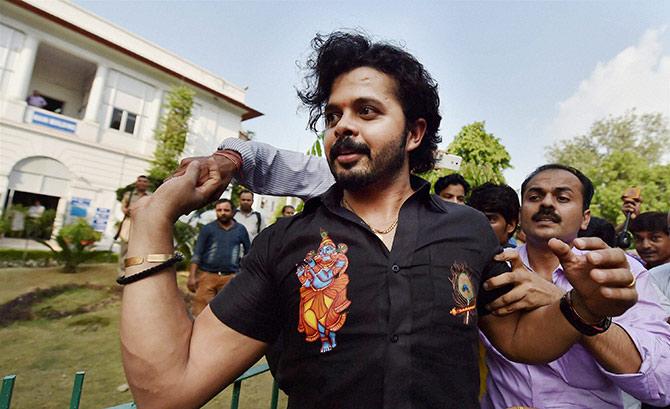 IMAGE: A file photo of S Sreesanth coming out of the Patiala House Courts in New Delhi after a trial court discharged him in the Indian Premier League 2013 spot-fixing scandal. Photograph: PTI
In the wake of Kerala High Court's decision to restore the life-time ban imposed on him by the Board of Control for Cricket in India (BCCI), former Indian pacer S Sreesanth has hinted that he might spend the rest of his career playing for another country.
Sreesanth pointed out that the BCCI had banned him, not ICC and, therefore, he is free to play for any other country.
"BCCI has imposed the ban, not ICC. If not India, I can play for any other country, because am 34 now and I can only play for maximum six more years. As a person who loves cricket, I want to play cricket. And not only that, BCCI is a private firm; it is only us who say that this is the Indian team, but you know BCCI is a private body after all," said Sreesanth in an event in Dubai.
On Tuesday, a division bench of the Kerala High Court had restored the life time ban imposed by the BCCI on Sreesanth in connection with the 2013 Indian Premier League (IPL) spot-fixing scandal.
Allowing the appeal filed by the BCCI, the division bench headed by Chief Justice held that there is no violation of natural justice against the cricketer.
Earlier, the BCCI had appealed to the Division Bench of Kerala High Court against lifting the life-time ban on the tainted pacer.
Sreesanth was banned by the BCCI for his alleged role in the IPL spot-fixing in 2013.
A single-judge bench of the Kerala High Court had earlier passed an order that the bowler's life-ban be lifted.
The court had also dropped all the charges against Sreesanth after he filed a plea challenging the life ban imposed on him.
South Africa's Steyn targets November return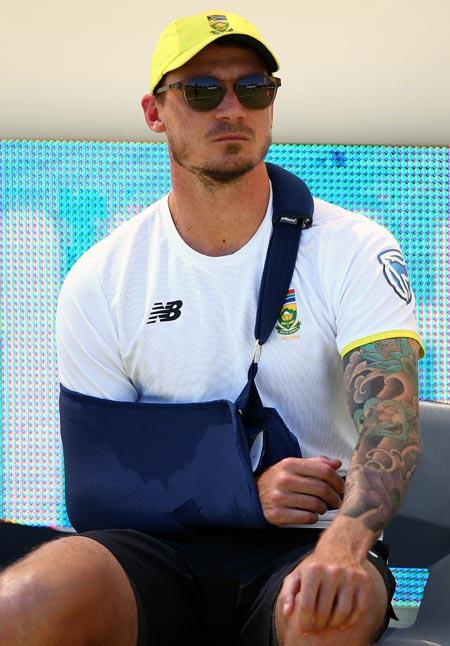 Fast bowler Dale Steyn is hoping to make a comeback following a year out with a shoulder injury at next month's South African domestic Twenty20 competition.
Following an extended spell of rehabilitation, Steyn said he has finally recovered from the shoulder problem he suffered while bowling against Australia during last November's test series.
"My arm is perfect, if anything its stronger than it was before because it's (been) reinforced with a pin," the 34-year-old told ESPNcricinfo.
"It's 100 percent now. I've just got to start reminding myself how to bowl at high speeds because I haven't done it for a year."
Steyn is particularly excited to work under Ottis Gibson, the former fast bowler who is now South Africa's new head coach.
"It's the first time in my career I have had a head coach who was a bowler," he added.
"It gets me excited because he (Gibson) is on the same wavelength as us. For the first time it's also great to see that the head coach is out in the middle when the bowlers are bowling and not in the nets with the batters."
Image, bottom: South Africa fast bowler Dale Steyn
Photograph: Paul Kane/Getty Images