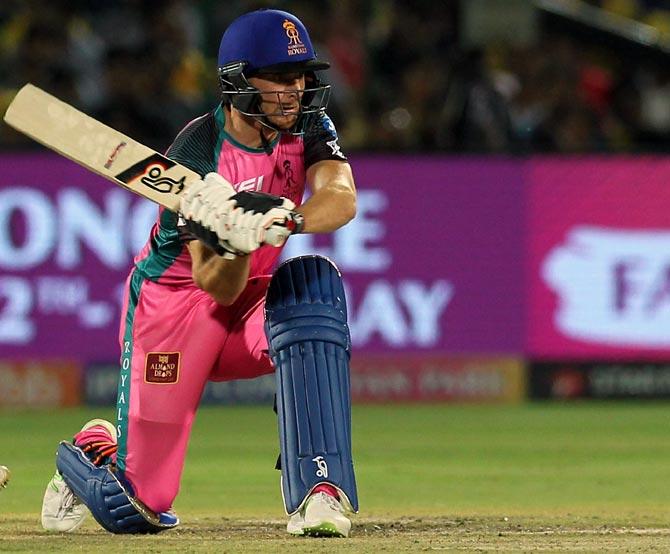 England batsman Jos Buttler has vowed not to curb his attacking instincts after earning a "surprise" recall to the Test team for the opening test against Pakistan starting at Lord's on Thursday.
Buttler returns to the Test fold for the first time since December 2016 after a series of impressive innings in the Indian Premier League (IPL) and he believes a similar bold approach in red-ball cricket can help cement his place in the side.
"They've told me to play in the way people watch me play in white-ball games," Buttler, a wicketkeeper selected as a specialist batsman for the Pakistan Test, told a news conference on Monday.
"I'm not just going to go out there trying to slog, but I'm going to try to be positive and score runs."
Buttler's time away from the test arena has seen him forge a reputation as an effective limited-overs player and he recently struck an IPL record-equalling five consecutive half-centuries for the Rajasthan Royals.
Buttler's move to opener for the Royals prompted his run of good scores but the 27-year-old is likely to slot into England's middle order at number seven.
"That's what the game is about, whatever fashion you do that in," Buttler, who has played 18 Tests so far with an average of 31.36, added.
"There have been some great cricketers from all generations who've done it their own way. That's what's been asked of me really, to play in a way that suits me."
England will play two Tests against Pakistan, with the second match at Headingley starting on June 1.
New Zealand set to dump Eden Park for new Auckland venue
Auckland's Eden Park may not host another Test match with New Zealand Cricket (NZC) pondering the use of a redeveloped Western Springs Stadium as an alternative venue in the country's most populous city.
Hiring the multi-purpose Eden Park posed a serious financial challenge to NZC, which is not considering the stadium for any home Test matches next year, according to New Zealand news website Stuff.
"Auckland is currently missing out significantly on international cricket exposure due, primarily, to the lack of a cost-effective, financially-viable venue," NZC chief executive David White wrote in a submission to the Auckland Council.
"Eden Park, the only ICC-sanctioned arena in New Zealand's most populous city, is unaffordable for all but the biggest and, by definition, the rarest of international cricket fixtures."
"For this reason, Auckland has hosted just three test matches since 2006, and the number of one-day internationals and T20 internationals played in the city has been a mere fraction of what it would be, were it to offer a fit-for-purpose, international-standard cricket ground."
Eden Park hosted its first Test match when New Zealand played England in 1930 and its most recent and 50th one was between the same opponents in March this year.
The NZC finds the 41,000 capacity stadium relatively "small" and is also not happy with its rectangular, football-shaped playing area. Consequentially, action may shift to the Western Springs Stadium, which currently hosts speedway and rugby.
"As proposed, a newly-developed cricket amenity, with a full-sized, oval-shaped playing arena; able to cater for both small and large crowds in a relaxed, grass-banked, more cricket-centric surrounding, would guarantee Auckland significantly more men's and women's international cricket," the NZC added.