With little over a month to go for the ICC Cricket World Cup, England middle-order batsman Paul Collingwood has predicted that India, South Africa, Australia and his native country will make it to the semi-finals of the mega-event starting February 19 in Dhaka.
"On current form I'd hope to put England into a semi-final, it would be hard to not put India in there with the strength in their batting and in home conditions -- they'll be tricky to play against," Collingwood said in an exclusively chat with ICC Cricket World audio show.
"I always think Australia can't be ruled out since they've had a good history in this tournament and finally I'd pick South Africa as the fourth semi-finalist. But you never know I may be well off the mark!" he added.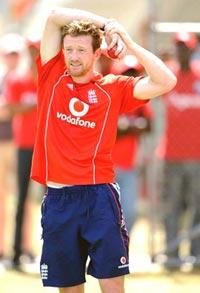 The 34-year-old batsman, who announced his retirement from Test cricket last week, also said that after their triumphant Ashes campaign, England would seek to carry on the winning momentum in the upcoming ODI series against Australia as well as the World Cup.
"It's a huge motivation to do well against Australia in all formats of the game. We want to keep the momentum going from the Test series and we want to carry that into the ICC Cricket World Cup. We want to finish the ODI series in Australia filled with confidence and ready to take on anyone at the World Cup," Collingwood said.