Despite starting the tournament with a win, Somerset skipper Alfonso Thomas said they will go as the underdogs when they take on Kolkata Knight Riders in their second match of the Champions League T20 qualifiers in Hyderabad.
"Kolkata Knight Riders have got some world class players. At the end of the day, we are going to go as underdogs," he said after the team's four-wicket win over Auckland Aces on Tuesday.
While Kolkata boast of players such as Jacques Kallis, Brett Lee and Yousuf Pathan who can win a match on their own, Thomas felt, his side does not have such big names.
He, however, assured that his team would give their best.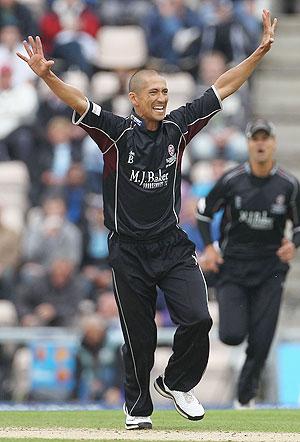 "We are certainly going to try. We are not going to be intimidated either. We are going to respect them like we respect any other team. We are going to go as underdogs. We are a young and energetic side who are playing as a team. We certainly match their energy," Thomas said.
Meanwhile, Auckland Aces captain Gareth Hopkins said his team is "devastated" after being knocked out of the qualifiers following their loss to Somerset, their second in successive days as they had earlier lost to the Knight Riders.
Hopkins said it was "gut-wrenching" for his side to crash out of the Champions League Twenty20 after coming so close to victory.
Auckland, who were beaten by Kolkata Knight Riders by just two runs on Monday, suffered a four-wicket defeat against Somerset on Tuesday.
"It is gut-wrenching to go this close and fall short. We were just looking to play straighter, but I think we had enough with our experienced bowling line-up. The Somerset boys played really well in the end," Hopkins said.
Chasing 126 to win, Somerset recovered from a mini-collapse and reached the target only in the last ball of the match with skipper Thomas hitting the winning runs.
"We didn't deserve to win it until the last couple of overs really, the way we batted. It was a bit of déjà vu really to go out and finish a game here," he said.
"The goal is always to get into the second half where we have two more international players coming," added Thomas.
Wicket-keeper batsman Steve Snell, who scored an unbeaten 34 off 24 balls to set up the run chase, said they were trying to be patient and were confident of pulling it off in the end.
"It was nice to be out there and playing in a high-pressure game. We were trying to be calm, and thought one boundary an over would win us the game," he said.
"We knew even if we needed 15 in the last over, we were in the game. Didn't want to lose it before that. Pretty delighted to get there in the end. I am a back-up for two internationals, a spare keeper if you like. So enjoyed it," he added.
Somerset will next play Kolkata Knight Riders in their second qualifying match on Wednesday.