'It is special because I started off well in this series. And then a couple of matches I couldn't play the way I wanted to play, I was getting out too early. I just came out in a much clearer mindset in this game. And I just wanted to back my instinct and play'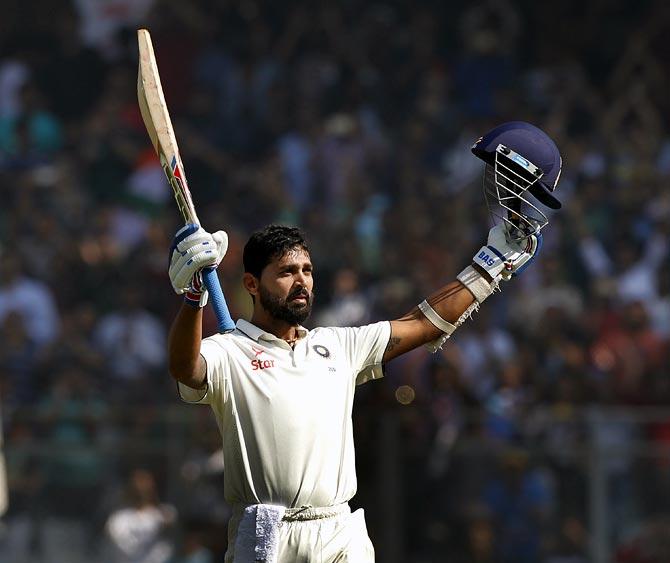 IMAGE: India opener Murali Vijay scored his second century against England in the series, compiling 136 runs on Day 3 of the 4th Test in Mumbai on Saturday. Photograph: BCCI
India opener Murali Vijay heaved a sigh of relief on Saturday as he roared back to form with a century to end his run of poor scores in the last few games.
- PHOTOS: Sublime Kohli, Vijay put India ahead on Day 3
Since starting the series with a century (126) in the first Test in Rajkot, Vijay failed to live up to expectations in the next five innings.
In fact, the manner of his dismissals became a talking point after the England fast bowlers had exposed a chink against the short balls.
Fresh from the eight-day break after the third Test where he got the time to work on his game, Vijay bounced back with a smashing innings of 136 in the fourth Test at the Wankhede stadium in Mumbai on Saturday.
"It is special because I started off well in this series. And then a couple of matches I couldn't play the way I wanted to play, I was getting out too early. I just came out in a much clearer mindset in this game. And I just wanted to back my instinct and play," Vijay said after the third day's play.
"The break helped me. And it helped everybody I guess, to go and rethink and come back better," he further added.
When asked about how he managed to overcome his problem with short balls, Vijay replied: "I did think about it because I was playing at the balls I should be leaving generally, and there are lot of other factors to it. I don't want to reveal them. But yeah, the definite game-plan is to back my core game, believe in it and come back fresh and in play this Test match the way I wanted to play."
Vijay, 32, was particularly impressive on Day 3 for the manner in which he took the attack to England's spinners, using his feet to good effect.
"Actually my game-plan is to attack the spinners because I don't want them to settle in one particular area where they find it comfortable. I just wanted to use my feet and use the depth of the crease and play according to my game-plan and it came out pretty well I guess," he said.
India were sitting pretty 451 for seven in reply to England's 400 and Vijay believes getting the first innings lead would prove to be a crucial factor on a pitch offering a lot of assistance to the spinners.
"Any lead is gold on this wicket. During tea time we just thought get close to their target but the way Virat (Kohli) and Jayant Yadav are batting, I think we are in a pretty good position."
He also paid tribute to captain Kohli, who hit an unbeaten 147, with the duo putting o 116 runs for the third wicket to lay the foundation for India's big total.
"Every day he is improving. At the moment all I can say is he is batting at his prime, which is great for us, and hopefully he can continue it for a longer period of time."