'Ponting would have been dropped had he not retired in 2012'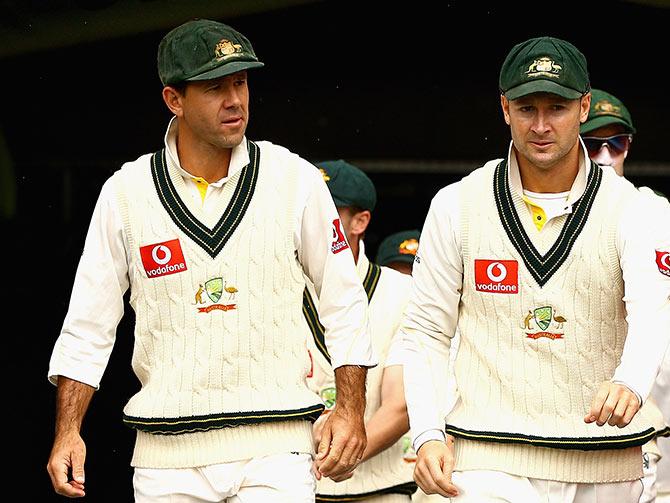 IMAGE: Ricky Ponting and Michael Clarke during an Ashes Test at the Melbourne Cricket Ground. Photograph: Quinn Rooney/Getty Images
Former Australian skipper Michael Clarke has revealed that the team management was about to drop Ricky Ponting in 2012 had he not retired in Perth against South Africa.
In his autobiography 'My Story', Clarke speaks about he struggled with former national selector John Inverarity's schoolmasterly conversational style.
In the book, Clarke reveals that in the lead-up to the 2012 SCG Test against India, Inverarity had emailed Mickey Arthur to say, "I have technical deficiencies and I am not the player I used to be".
However, the most telling of Clarke's recollections is that later in 2012, the selectors had decided to drop Ponting who was struggling after low scores in the first two home Tests against the Proteas.
"John confides that the other selectors have made their minds up that Perth will be Ricky's last Test match, whether he scores nought or a hundred," ESPNcricinfo quotes the former Australian skipper as saying in his book.
In his autobiography 'Ponting: At the Close of Play' which released in 2013, Ponting had written about his oscillating relationship with Clarke, and a feeling that he wasn't supported by Clarke's best as his deputy.
However, three years down the line, Clarke agrees to his then skipper and concedes he should not have been made vice-captain in the first place.
"In his autobiography, Ricky wrote that he was 'disappointed with some of the things I did as vice-captain'. He didn't accuse me of being treacherous or disruptive, but said I was reluctant to get involved in planning meetings or daily debriefs and take on a leadership role. When my private life was turbulent, he said, I would go into my shell. He was right. I was not a good vice-captain to him," Clarke writes in his book.
In his last Test at the WACA in Perth from November 29 to December 3, 2012 vs South Africa, Ponting scored 4 and 8 respectively in both the innings.