The New South Wales coach Anthony Stuart has revealed that it is under Cricket Australia's instructions that Shane Watson's bowling is being used sparingly in the Champions League T20. 
"Shane is just coming off the Test series in Sri Lanka. He bowled some good spells down there and probably more in a Test series than he has for quite some time.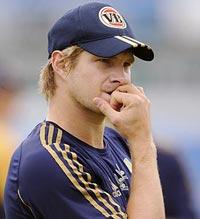 "Shane's had a history of injuries early in his career and we got a direction from Cricket Australia that they didn't want him to bowl," Stuart informed ahead of his team's CLT20 group league match against Chennai Super Kings. 
He further added: "Straight up after this series, they have the series in South Africa and then they're back in Australia to play New Zealand and then India. He's (Watson) going to have a big workload this summer. We don't have any issues with Shane not bowling." 
About their match against Stuart stated that his team has got a gameplan in place to beat defending champions Chennai Super Kings but it's up to his boys to execute it. 
"We have a gameplan and it is up to us as to how we execute it," the Kiwi-born Stuart said. 
"The boys been playing to the best of their ability and I'd say it's a good sign for us that we are improving. Regardless of what wicket we are provided tomorrow, we have a gameplan and it's upto us how we execute it."