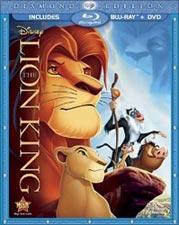 Seventeen years after it became a huge worldwide hit,
The Lion King
was released in theatres in North America and half a dozen countries in Europe and South America in a glorious 3D version recently, where it has made over a smashing $100 million.
Even as the film continues to be shown in more than 2000 theatres, it is now expected to create a big record in the home entertainment market. The high definition Blu-ray and Blu-ray 3D editions of the classic film about friendship and family ties, is expected to be a chart topper not only this week but for several weeks ahead.
Though very small children (perhaps up to eight years) may find some of the scenes in the film a bit too violent, the whole family can now enjoy the film in its new avatar. It is a perennially watchable family treasure, now made most attractive than ever before.
The Disney classic, which is among the most endearing films (not to forget its worldwide hit as a stage show) follows the adventures of Simba, the feisty lion cub who "just can't wait to be king". But his envious Uncle Scar has plans for his own ascent to the throne, and he forces Simba's exile.
Expelled from the kingdom, Simba is lonely and dejected but his fortunes change when he joins up with a hilarious meerkat named Timon and his warm-hearted warthog pal, Pumbaa. Simba is now learning to adopt their carefree lifestyle of hakuna matata, but is this Simba's real destiny? What about the Circle of Life that is beckoning?
While a new generation will discover the awesome characters voiced by Matthew Broderick, Nathan Lane, Whoopi Goldberg, James Earl Jones, Jeremy Irons, Ernie Sabella, Jonathan Taylor Thomas, Robert Guillaume, Cheech Marin and Moira Kelly, viewers of all ages will be enthralled by the new high definition home entertainment versions.
The 2-Disc Blu-ray/DVD combo in Blu-ray packaging includes four never-before-seen scenes, a deleted song, extended scenes, never-seen-before bloopers and an interactive gallery. There are several versions available. For serious movie buffs there is nothing like the Eight Disc Combo, which has Blu-ray 3D/Blu-ray/DVD and Digital copy. Extras include all features found in the 2-Disc combo and the two made-for DVD follow up films. Though they are not as classy as The Lion King, they offer a pleasant diversion. The films are: The Lion King 1: Timon and Pumbaa's Vacation Safari; with deleted scenes and making of the film and many extras; The Lion King 2: Timon and Pumbaa's Insectapedia; "One by One"- Animated Short; Proud of Simba's Pride; Timon and Pumbaa: Find Out Why; Music Video.
MGM and 20th Century Fox are bringing into your home many riveting films that were certainly not record breaking hits, but that have gained a steady following years after they were released. And in the case of some films, such as Martin Scorsese's New York New York, they offer a younger generation the chance to see and appreciate them.
New York, New York, featuring Liza Minnelli and Robert De Niro, was a box-office dud and the musical received mixed reviews in 1977. But over the decades, it has become something of a cult musical and the Blu-ray edition, with an introduction by Scorsese and commentary by Minnelli, offers an excellent opportunity to see the film in a new light.
Getting away from the mean streets of New York, his usual haunt, Scorsese sought to make a heartfelt musical. He was not hugely successful, and yet the film holds your attention.
The film tells the story of Jimmy, a saxophonist on his way to stardom, and Francine, a wannabe starlet. Soon the two set New York on fire. But the pressure to succeed cannot leave their personal lives unscathed. When they separate, each one goes on to become a star in his and her own right. But years later, when they are reunited, they have to once again make tough decisions.
A lush musical score, lush cinematography and several decent performances make up for other lapses.
The Ceremony is written and directed by actor Laurence Harvey who essays a lead role in the film.
Harvey plays Sean McKenna awaiting execution in a prison in Tangiers after being convicted of murder. McKenna was trying to prevent the crime in question but was instead made the scapegoat. McKenna's girlfriend Catherine (Sarah Miles, a powerhouse of an actress) and his brother Dominic (Robert Walker Jr) engineer an escape plan. But McKenna's reunion with Dominic and Catherine proves not to be a happy one, when he discovers that they have been having an affair. And worse, that Dominic insisted that Catherine have an affair with him as a condition to help McKenna escape.
The dark, brooding but riveting drama is best enjoyed at home without any interruptions. It has solid performances by Sarah Miles, Robert Walker and John Ireland. The highly atmospheric film is in black and white.
Some reviewers in 1963 found the film too downbeat and wrote that first-time director Harvey had shot the film in poor light. But watch the film on DVD and give credit to the director for creating a terrific atmosphere.
A sharpened edition of Vera Cruz awaits viewers who are going to enjoy this classy western released recently in Blu-ray.
Director Robert Aldrich is best known for directing the pulsating action drama Dirty Dozen, but he also made several films that are equally notable, though not as popular, such as Vera Cruz. This Western about friendship, betrayal, and a stab at redemption, is noted for outstanding performances by Gary Cooper (High Noon) and Burt Lancaster (Elmer Gantry) as the daredevil mercenaries who get trapped by endless intrigues in Mexico's uprising in the 1860s. It is also an attractive work by a number of lesser known artists at the time, especially Ernest Borgnine and Charles Bronson, who went on to be among the most bankable stars of the 1970s and early '80s.
"You're the first friend I ever had," Lancaster tells Cooper, and he surely means it, but when they come across gold bullion that could make them millionaires overnight, greed and violence compete against friendship and honour.
The film has to be seen in a broader context. 'Played out as a seat-of-the-pants con game of shifting alliances and double crosses,' wrote the critic Sean Axmaker, 'this is a cheerfully ruthless tale that served as a veritable blueprint for the Italian spaghetti Westerns of the 1960s. Director Robert Aldrich has a real flair for turning rogues and opportunists into deviously riveting characters.'