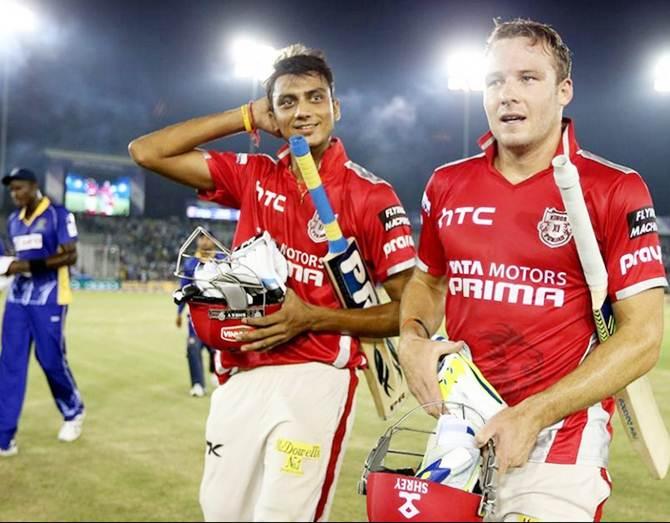 Akshar Patel and David Miller of the Kings XI Punjab celebrate the win. Photograph: BCCI
Kings XI Punjab skipper George Bailey heaped praise on Akshar Patel for his crucial nine-ball 23 which helped his team beat Barbados Trident by four wickets in the Champions League Twenty20 in Mohali on Saturday night.
- Miller, Akshar guide Punjab to victory over Barbados
Needing 25 to win off last two overs, Patel blasted three fours and a six as Punjab scored 20 runs off the 19th over.
"For a guy like Akshar to come in and hit his first 9 balls for 26 runs is extraordinary. It's a beautiful batting wicket. I was proud of the way we bowled today," Bailey said.
Punjab registered their second win in as many matches and Bailey hoped his team will keep their record of successful chase intact.
"Long may our chasing record continue. We get off to great starts. Once again we did that and we're thereabouts with the run rate."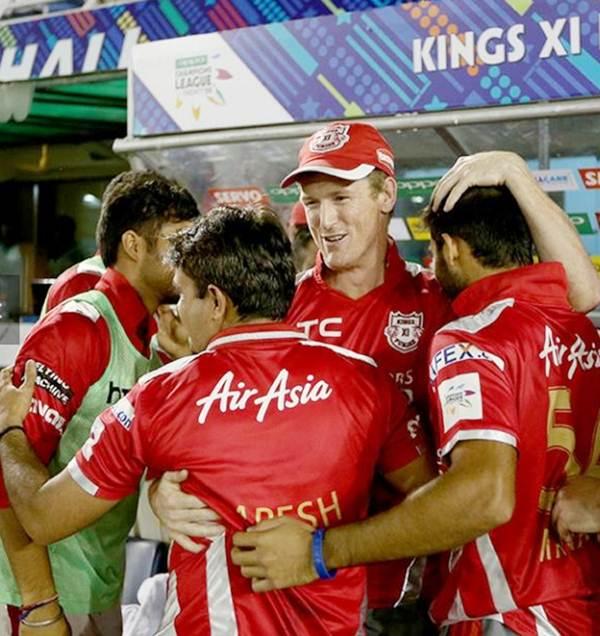 George Bailey skipper of the Kings XI Punjab celebrate with teammates. Photograph: BCCI
David Miller, who was adjudged as man of the match, said it was Miller who took the pressure off him in the final stage of the match.
"Only towards the end did it hit one out of the ground. Akshar made it easy and took a lot of pressure off my shoulders. I was lucky up front, getting a few chances, but once I'm in, I back myself to hit the boundaries," he said.
"It's a see-ball-hit-ball type mentality. We've got some great spinners and some quicks. Perera is showing some strength for the team. He can clear the boundary and takes wickets as well."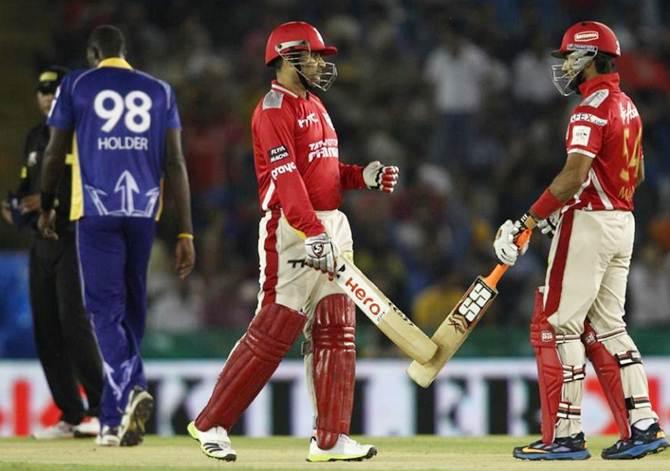 Virender Sehwag, left, of the Kings XI Punjab celebrate with teammate. Photograph: BCCI
Virender Sehwag, who scored 31 after opening the innings, was also all praise for Patel.
"No one expected Patel to bat the way he did. The six he hit off Rampaul was amazing," he said.
Talking about the wicket, Sehwag said: "It's a good track to bat on. A little bit slow. A couple of balls spun when Mendis bowled, but overall it was a good T20 wicket."
Barbados Trident skipper Rayad Emrit said they should have grabbed the opportunity in the end when Punjab still needed 25 runs to win.
"I thought with two overs to go, we should have had it with 26 runs to defend. Ravi is our most experienced bowler. Another day he will get it right, but it didn't happen today. We had spoken among the kinds of lengths we needed to bowl," he said.