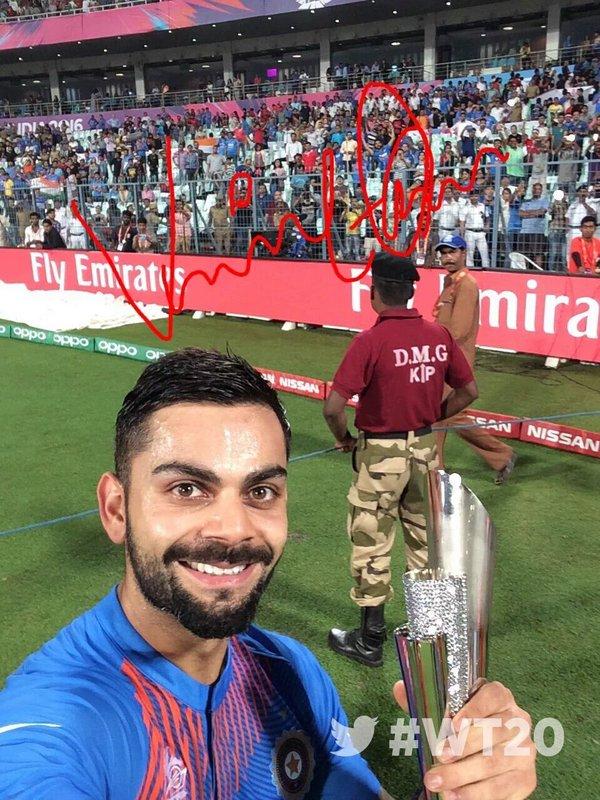 IMAGE: Virat Kohli with his man-of-the-match trophy against Pakistan at Kolkata. Photograph: BCCI.
In a low-scoring tense encounter on a difficult Eden Gardens pitch, Virat Kohli played to perfection by slamming a 37-ball 55 to guide India to a six-wicket win against arch-rivals Pakistan on Saturday.
Kohli got emotional after completing the fighting half-century and was seen bowing to 'someone' in the packed stadium in Kolkata.
Man-of-the-match for his match-winning effort, Kohli later revealed he was paying respect to none other than his role model and legendary batsman Sachin Tendulkar, who was in the stands during the epic encounter.
Catch India's man for all seasons- Kohli's special interview to BCCI.TV after his special knock.
As a team, you couldn't have asked for a better comeback, a better stage and a better run-chase. How eager were you to put that loss behind and make a telling statement in this game?
Absolutely! You put it right. Last game, I was really disappointed with myself. I got out on 25 (23), I wanted to win the game for the team but that is how cricket goes sometimes. I knew if I had batted till 40-45 runs, we could have pulled that game out of trouble and we could have won that one as well. It doesn't happen every time.
I was really disappointed after that loss. I went back to the room and thought about what needs to be done. We were in a similar situation in this game. We were 23/3 chasing a big score in 18 overs against a strong Pakistan bowling attack. But such games and situations just improve you as a cricketer and I look forward to challenges like these.
You've spoken about your mindset in the past , but how is the batsman in you able to do it time and again?
It is very important to assess the field and understand how much the ball is turning and gripping from the surface. Accordingly you pick out bowlers, where they are trying to bowl at you and try to get into the head of the bowler and make him bowl where you want him to bowl. That is the key. That is where intent counts.
If you are showing the bowler that you are coming towards him, then it is a different mindset for him rather than making him feel that you are guessing what is going to happen. It is just that sort of mindset that I take in, and it helps me to be on top of those pressure situations. It is coming off nicely at the moment, I just like to keep things simple and continue with the same.
What was your thought process before walking out to bat on Saturday during the run-chase? How would you put the innings against Pakistan into perspective?
I told myself in the change room that I am going to back myself to play good cricketing shots. That is something that we learn as kids and there is no reason why you cannot go and execute good cricketing shots. At the end of the day you are playing cricket and not trying to slog the ball. I was confident that I needed to play with a straight bat so that the strike keeps rotating. That mindset didn't change anytime in the innings because I didn't go in with a different mindset.
I went in with the same mindset to bat and stuck to it throughout. This works for me in all situations. I remain pretty calm. Luckily my heart rate was low (smiles) when we lost three wickets, it could have shot up as it was a big game and a full stadium at the Eden Gardens. I am just grateful I was able to do it.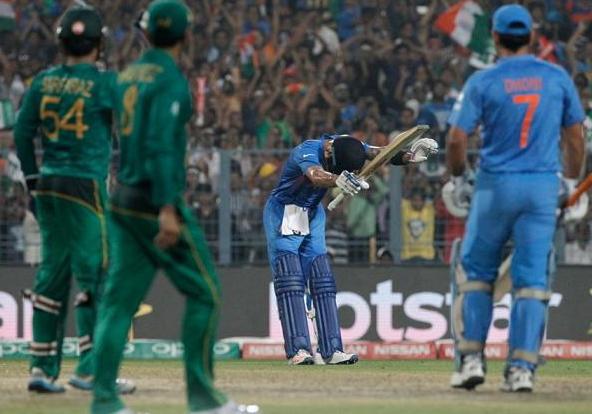 IMAGE: Virat Kohli dedicates his match-winning half-century to Sachin Tendulkar. Photograph: BCCI.
Talking about the big occasion, we saw you bow to Sachin Tendulkar in the stands. It would have been special to perform in front of your cricketing idol.
I can't express the feeling. My brother is here as well and Sachin Tendulkar was up there in the stands. I have seen Sachin paaji do that for India for years together and seen how people shout for him.
I have gotten a chance to do it in front of him and he is celebrating. I cannot explain that feeling as a youngster who has grown up playing cricket because of him. To be able to do it in front of him and give him happiness; I am very grateful for it and it is a very emotional moment.
Two more games to go; this win should definitely boost confidence levels in the team, isn't it?

I think this is a perfect catalyst for us going forward into this tournament. You have to stay positive, no matter what. That is the name of the game in international cricket. There is nothing you can do about a bad loss, but what you have to do is learn from it, and come out positive.
When you are sitting in that room, you want to be the guy that makes the difference in the game and win the game for the team single-handedly. If all eleven guys can think like that, then the team is in a good space.
Courtesy: BCCI