- 'I don't think there were any demons in the wicket, the ball did not turn square at any stage, batsmen had to apply themselves but it was a bowlers' game.'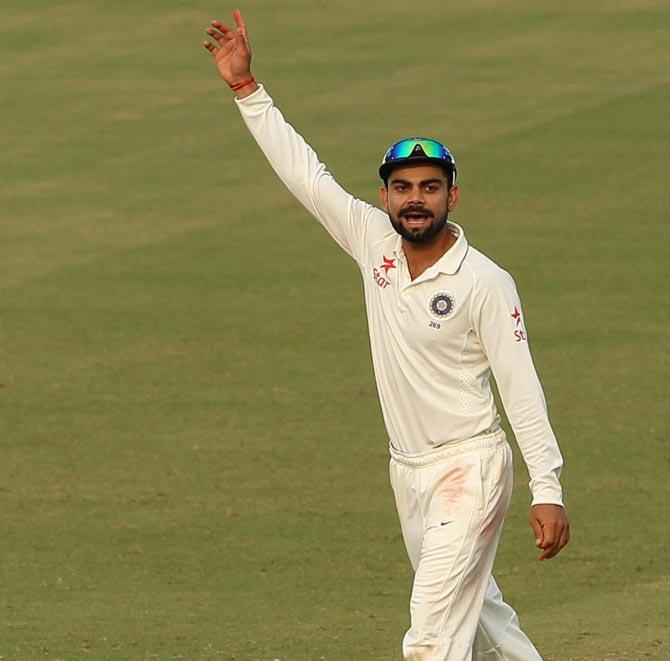 IMAGE: India captain Virat Kohli. Photograph: BCCI
India captain Virat Kohli on Saturday rejected criticism of the pitch for the first Test against South Africa in Mohali and said it was 'errors in shot selection' that brought about wickets for spinners rather than the pitch playing tricks, a view his rival captain Hashim Amla also shared.

"I don't think there were any demons in the wicket, the ball did not turn square at any stage, batsmen had to apply themselves but it was a bowlers' game. We thought if we are finding it difficult on this wicket, it is going to be difficult for them (South Africa) as well," said Kohli.

Amla pointed out that errors in decision making cost them the game.

"The chat that we had in our meetings was that the ball wasn't turning that much actually. And I think a lot of dismissals actually in both teams, there were quite a few dismissals due to lack of turn more than due to excess of turn," Amla said after losing the opening Test of the four-match series.

"Sometimes those are the more difficult pitches to play on. In saying that, the chat was that the ball wasn't turning as much but there were a few errors in decision-making that kind of cost us a bit. We actually kept it as simple as possible, that it is not turning as much. If you get a good ball that turns, so be it.

If Ravichandran Ashwin and Ravindra Jadeja turned on the heat against the formidable South African batting, then visiting spinners Imran Tahir, Simon Harmer and Dean Elgar also proved effective on the slow and low wicket at the Punjab Cricket Assocation I S Bindra stadium.

"Yes. I think that was the case. I can comment on our batting. We made errors rather than fear of spin. We made shot judgement errors. We know that it has been committed, it will be reflected upon and corrected, next time we come out to play," Kohli, who won his first home game as captain, said.

Kohli also agreed that lack of domestic cricket could have led the players to lose touch with spin bowling.

"Could be. We have played a lot of cricket away from home and we have not played a lot of cricket on turning wickets. And as you rightly said, we haven't played a lot of domestic cricket. That could be the case," he said when asked about the players' lack of ability to tackle spin.

"Obviously there could be a reason that, it is always said that Indians are very good players of spin, Asians are very good players of spin. That might pressurise a few guys saying that we have to play spin well. And if that doesn't happen once or twice, it starts building up. It could be anything. The individuals need to be spoken to individually."

"At times we have played spin well. In the second innings is when we have not played spin well, as far as I have experienced. In the first innings we have played spin relatively well. I think it's a mindset thing where some sort of fear creeps in and you're not able to make the right decisions. Doesn't matter if its spin or pace. More often than not, it has happened against spin. I think that is an area we can improve on," Kohli added.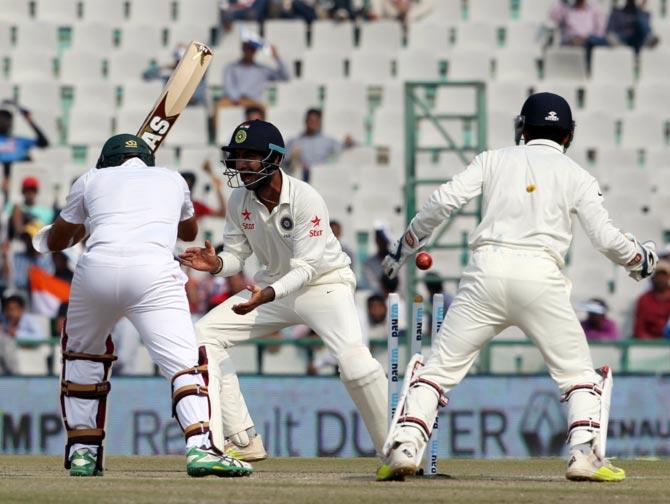 IMAGE: Hashim Amla (left) is bowled by Ravindra Jadeja. Photograph: BCCI
He spoke about Indian batsmen faltering against spin in the sub-continent.

"See we have played spin relatively badly in the past. Once it happened in Galle. I think the problem has been that we lost wickets too quickly. If we get a stand and then lose one, we've lost two three... so that needs to improve. Apart from that everyone plays spin well. It's just a mindset thing.

"You can think of five different things while playing a stroke, thinking that the ball might go there. You need to think of only one thing. If you want to hit a ball somewhere, you need to think about only that. That sort of confidence is something only an individual can instill in himself.

"We have spoken about that -- having clarity of mind, playing fearless cricket. I think that's what we are going to stress on again. Next time around the guys are going to back themselves more and face the situation front on rather than thinking what could have been done. Rather just be out there and be sure of what you want to do and have no fear in executing what you want to do," said Kohli.

Indian spinners fashioned a comfortable 108-run victory after bundling out the visitors for 109 in the final session on Day 3 to take a 1-0 lead in the four-match series. Kohli pointed out that the margin of victory is not reflective of the actual win and that he is ready to focus on the team's strengths and weaknesses.

"Yes, the match wasn't as comfortable as the margin suggests. I wouldn't say it was very very close. I would say if they had wickets in hand then it could have been interesting in the fourth innings. Apart from that I don't really want to get into the deficiencies of the opposition team at the mistakes they made. I am sure they want to reflect on that and so do we as a batting unit.

"We have not performed to our potential in this game, the bowlers have stepped up. Even if the ball is turning how much the bowler needs to pitch the ball up to get the ball in the right areas. So they should get credit to that.

"Even the fast bowlers in both the innings, they bowled with good pace even in the last innings their spells were very important to make the batsmen feel they are not getting easy runs from any corner. So I think that was very very important as far as the whole bowling unit bowling together as well was concerned. I would prefer to look at our strengths and weaknesses," he added.

Both Ashwin and Jadeja bagged a five-for in the first and second innings respectively and the spin troika, including Amit Mishra, bagged 19 wickets in the match.

Kohli insisted that it is the player skills and not the pitch that played a role.

"Like Ashwin pointed out that he never saw any hype when we went on overseas tours. And it should not happen here as well. If you are an international cricketer then you have to use that ability and apply it if you see the dismissal, then you won't find any dismissal where the ball has hit the batsman's glove or witnessed a square turn. There were edges and it were the mistakes of the batsmen. The wicket did not have much of a role in that."

Replying to a query on getting fast pitches for Indian pacers getting ready for foreign tour, Kohli said, "It all comes down to how many wickets the spinners get abroad. I don't think we should compare the two things. Fast bowlers should be better but for that we don't need to alter our home conditions.

"We can prepare such wickets and hold camps, get those kind of tracks in first-class cricket, but that can't happen on a regular basis because when we talk of home conditions then in India we have a certain kind of pitches.

"The bounce and pace of South Africa and swing of England cannot be replicated here. Eventually it becomes a batting wicket which is not result oriented. If you want to play and compete in Tests then the wickets should be result oriented. When we played in Sri Lanka the first wicket and the second wicket was turning, third wicket was seaming but all were result oriented.

"So we don't have a problem with that. If a fast track can be prepared somewhere fine, it will be our decision that we want that kind of wicket, whether our pacers want to bowl on that kind of wicket."
Also Read:
Stats: INTERESTING numbers from Mohali Test, Day 3
Captains speak: 7 key points from Mohali Test
Congratulate Team India on their Mohali win!
Jadeja, Ashwin wrap up Mohali Test in 3 days