Former England paceman Mathew Hoggard urges England cricket to have shift in mindset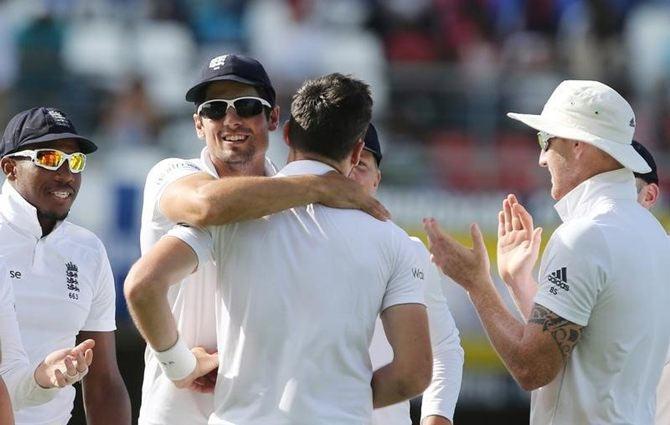 England's James Anderson celebrates with Alastair Cook after dismissing West Indies' Denesh Ramdin, to break Ian Botham's record for most Test wickets by an England player in the first Test in Antigua last week. Photograph: Jason O'Brien/Reuters
Former fast bowler Matthew Hoggard has accused England of being too "timid" and is urging his country to follow Australia coach Darren Lehmann's lead by encouraging a more positive and aggressive approach.
England are without a managing director after Paul Downton left his job this month and Hoggard believes the new man, who will assume a restructured role with a new title, must revamp the domestic game and instil a fresh brand of cricket.
"We've seen with Darren Lehmann that he tells his players to go out and entertain and to have the freedom to go out and play," former Yorkshire paceman Hoggard said in an interview.
"You don't see any timid cricket from Australia since he's taken over. England's performances at the moment are very timid, very English in the way they approach their cricket.
"I think that needs to change and I think the (new) director of cricket needs to give the players the freedom and confidence to play the cricket we all know we are capable of but are just not producing at the moment."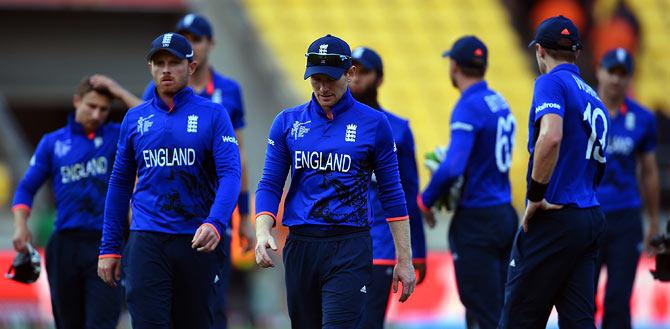 England captain Eoin Morgan leads his team off at the end of the ICC World Cup match against Sri Lanka. Photograph: Shaun Botterill/Getty Images
Hoggard, England's ninth highest Test wicket-taker of all-time with 248 victims in 67 matches, believes sweeping changes must be made to the domestic game.
"I think an English Premier League would be a fantastic idea, to get some world stars over to play Twenty20 cricket," said the 38-year-old.
"We saw in this year's World Cup how far we are behind the rest of the world in one-day cricket so to get an Indian Premier League equivalent would be fantastic in our country.
"To get a window of opportunity to let our players go over to the Indian Premier League would also be fantastic but there's no magic wand," said Hoggard.
"There are only so many days in the year and we don't really have the time to create a gap in the schedule so it's going to take a lot of reconstruction of county cricket and England international cricket."
Captain Eoin Morgan's team were completely off the pace in this year's 50-over World Cup in Australia and New Zealand and went out in the first round group stages.
The England batsmen were lacking in flair and adventure and Hoggard said world champions Australia showed how one-day cricket should be played.
"If you look at Australia there's not much difference between their one-day team and their Test team," he added.
"A few players may come in and out but I think it's more about mindset. Let's not analyse it too much, let's just go out and entertain -- go out, see ball, hit ball."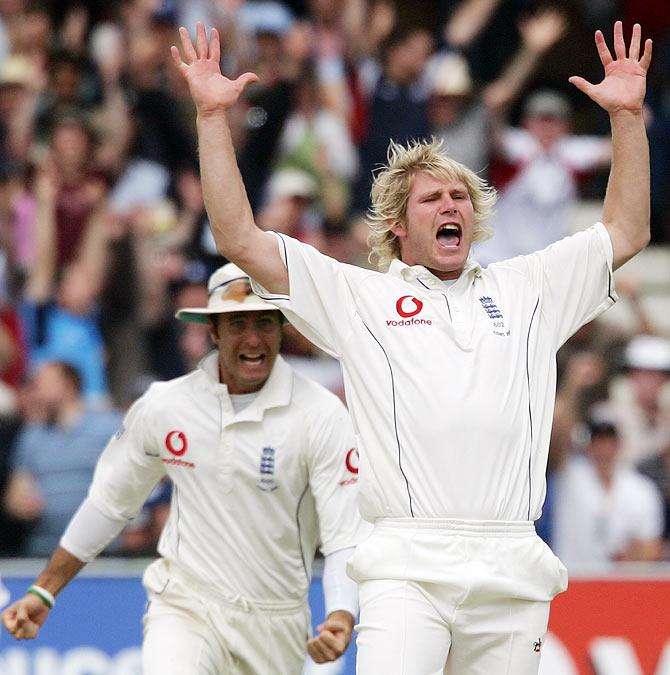 England's Hoggard celebrates dismissing Australia's Gilchrist during the fourth Ashes Test at Trent Bridge in Nottingham on August 28, 2005. Photograph: Darren Staples/Reuters
Hoggard, a member of the side that won the Ashes in 2005 for the first time in 18 years, said England could do with emulating the same approach his team adopted a decade ago.
"We went out not to be bullied by Australia because we knew if we got behind the eight-ball against them they would just steamroller us," he explained.
"We took the fight to them. Marcos Trescothick and Andrew Strauss opened the batting and they took the fight to them from the top of the order.
"Look at the Edgbaston Test, we scored 400-odd in 90 overs. That was unheard of at the time. To have the flair and calibre of players to score quickly made for fantastic viewing."
Fans are pessimistic about England's chances of competing with Australia in the next Ashes encounter in July but Hoggard said skipper Alastair Cook and his players must take it one Test at a time.
"Never mind the Ashes and Australia, how are we going to compete with New Zealand next month?", he added.
"I think we need to focus on our processes in the current series in the West Indies. Questions are still being asked about our batting.
"Our top four is not a lineup that looks settled and that's worrying."
Hoggard will raise money for cricket development and HIV/AIDS charity 'Cricket Without Boundaries' by taking the plunge at four open water swimming events starting on June 12.