McCullum 'comfortable' with Cairns trial evidence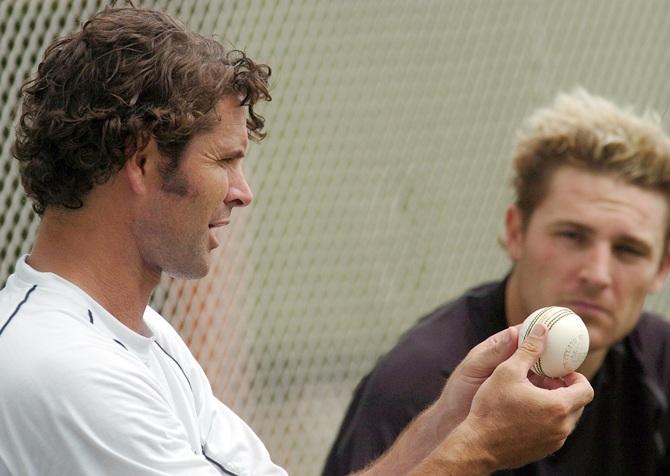 IMAGE: In older, happier times: Brendon McCullum, right, watches Chris Cairns as he examines a cricket ball. Photograph: Phil Walter/Getty Images
New Zealand captain Brendon McCullum is 'very comfortable' with the evidence he gave against former all-rounder Chris Cairns, who was found not guilty of perjury and perverting the course of justice in a trial last month.
Cairns had been accused of falsely claiming he had never cheated at cricket when he won 90,000 pounds ($135,171) in damages from Lalit Modi, the former boss of the Indian Premier League, in a libel action three years ago.
McCullum was one of two former team mates, along with self-confessed matchfixer Lou Vincent, who gave evidence against Cairns in the trial, accusing his predecessor as test skipper of twice asking him to fix matches.
Cairns was found not guilty on November 30 after an eight-week trial in Southwark Crown Court.
"I was very comfortable with the evidence I gave in London and I stand by that evidence as well," McCullum told reporters in Dunedin on Wednesday. "I was one of a number of witnesses who gave evidence.
"For me it's not about whether someone is guilty or not guilty. My role was to give evidence in the trial.
"People will have their own opinions on what unfolded. I was comfortable with it, and as I say it's time to move on and focus on a bit of cricket."
McCullum, who will lead New Zealand in the first test against Sri Lanka in Dunedin on Thursday, is scheduled to play his 98th test match at University Oval.
He refused to be drawn on whether he would be involved in any further legal action, with British media reporting that Modi was considering a civil claim, something Cairns acknowledged was a possibility.
"It's speculation," McCullum said. "It's not the forum to be discussing that sort of thing.
"We'll see what happens down the line."