Pakistan cricketers Salman Butt and Mohammad Asif were found guilty on Tuesday of taking bribes to fix part of a Test match against England in a case that prosecutors said revealed rampant corruption at the heart of international cricket.
Former captain Butt, 27, and opening bowlers Asif, 28, and 19-year-old Mohammad Amir, who had already admitted his part in the scam, plotted to bowl deliberate no-balls at pre-arranged times during the Lord's Test in August last year.
The men will be sentenced on Wednesday with Butt and Asif facing up to seven years in jail or large fines. The three players have already been banned from playing by the International Cricket Council for a minimum of five years.
The "spot fixing" plot was orchestrated by Butt and sports agent Mazhar Majeed, London's Southwark Crown Court was told.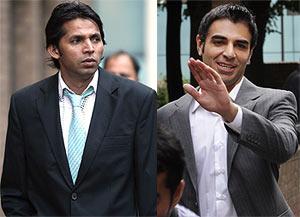 During the three-week trial, the jury heard how an undercover reporter recorded Majeed, 36, boasting of how he could arrange for Pakistan players to rig games for money and how huge sums could be made for gambling syndicates.
Majeed said he had been carrying out match-fixing for 2-1/2 years, had seven players from Pakistan's national side working for him, and had made "masses and masses of money".
He told Mazher Mahmood, an undercover journalist with the now defunct News of the World newspaper, that it would cost between 50,000 pounds ($81,000 )and 80,000 pounds ($130,000) to fix "brackets", a set period of a match on which punters bet.
- Uncovered: Who is Mazhar Majeed
Rigging the outcome of a Test match would cost one million pounds, Majeed told him. The agent was secretly filmed accepting 150,000 pounds in cash from the journalist as part of an arrangement to rig games.
Majeed promised the reporter that Asif and Amir would deliver three no-balls at specific points during the Lord's test. The no-balls were bowled as promised, with the probability of someone predicting this by chance estimated by a cricket statistician as 1.5 million to one.
Butt and Asif denied any involvement in the plot but were convicted of conspiracy to cheat and conspiracy to accept corrupt payments, the Press Association reported.
SAME CHANGES
Amir admitted the same charges in September but his guilty plea could not be revealed until the end of the trial of his team-mates.
Butt, appointed Pakistan's captain during last year's tour of England, told the court the agent asked him to rig parts of crunch games at the 2010 Twenty20 World Cup and last summer's Test series, but he had ignored the requests.
Butt, who made his Test debut for Pakistan in 2003 and has played 33 Test matches and 78 One-Day Internationals, admitted he did not fulfill his duty to inform the cricketing authorities about the corrupt approach.
The guilty verdicts came on the day Butt's wife Gul gave birth to their second son in Lahore.
"It is a day of sadness and happiness for us," Butt's father Zulfiqar Butt said.
"We are shocked by this verdict and will fight to the end. But at the same time God has given us a new life."
Asif was first selected for Pakistan in 2005 and has represented his country in 23 Tests and 38 One-Day Internationals. He declined to answer reporters' questions as he left court.
"This is a case of cheating, pure and simple," said Detective Chief Supt. Matthew Horne after the verdict.
"The defendants have let down the cricketing world, their fans and the hard working people that buy tickets to watch," he told reporters.
"I am not sure these men really appreciated how much they were admired by cricket fans; they were role models to countless children around the world and have betrayed their trust."
The England and Wales Cricket Board (ECB) reiterated its policy of zero tolerance in respect of corruption in sport.
"The ECB will make no comment on the court cases of Salman Butt and Mohammad Asif, but hopes that such criminal actions will act as a strong deterrent to support the eradication of such activity in sport," it said in a statement.
Photographs: Getty Images