Banned Pakistani cricketers Salman Butt and Mohammad Asif, on Tuesday, appeared at a local court in London, as their trial on charges relating to spot-fixing during a Test match against England last year began more than a year after the scandal rocked world cricket.
Former captain Butt and star bowler Mohammad Asif appeared at Southwark Crown Court on charges of conspiracy to obtain and accept corrupt payments, and conspiracy to cheat.
The charges relate to allegations of deliberately bowling no-balls during England's fourth Test against Pakistan at Lord's cricket ground in London in August 2010. The allegations were made by the News of the World tabloid, which was closed down in July.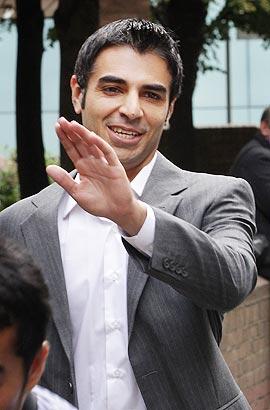 The duo deny the charges. The offences carry maximum sentences of seven years and two years in prison respectively. Butt stood in the dock wearing a grey pinstripe suit and white shirt while the taller Asif wore a black suit with white shirt. Neither wore a tie.
The duo are yet to speak as two hours of legal arguments ensued even as 12-member jury was sworn with a mixture of racial backgrounds and sexes. Both players were asked if they had any objection to the jury formed and they said, "No objections".
The members of the jury were asked by Justice Jeremy Cooke whether they or their families worked in the gambling industry or earned money from professional cricket or have ever been employed in journalism.
Justice Cooke informed the court that proceedings would resume on Wednesday morning.
Two others -- 19-year-old fast bowler Mohammad Aamer and players' agent Mazhar Majeed -- have also been charged with the same offences.
In February, a separate ICC anti-corruption tribunal, which sat in Doha, found Butt, Asif and Aamer guilty. Butt was banned for 10 years, Asif for seven years and Aamer five-year penalty.