'Our bowling pool has swelled to 10 to 15, earlier it wasn't so.'
'Now, the one who is replacing you is also as skilful.'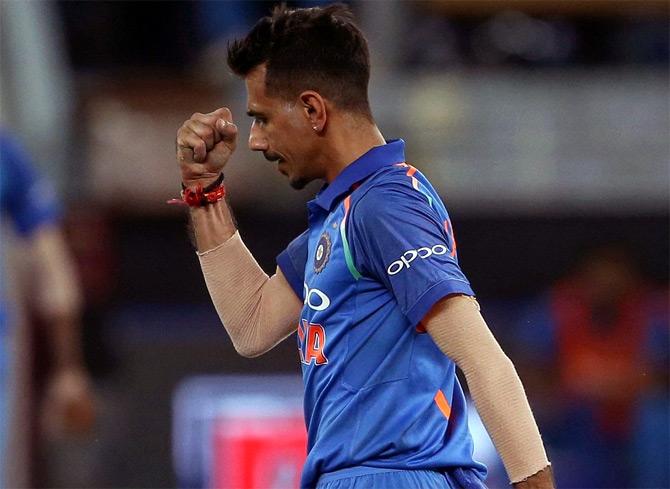 Leg-spinner Yuzvendra Chahal has attributed India's consistent show across formats to a skilful pool of bowlers and confidence shown by the team management.
"Our bowling pool has swelled to 10 to 15, earlier it wasn't so. Now, the one who is replacing you is also as skilful," Chahal told reporters after India notched up a comfortable 9 wicket win over Pakistan in the Asia Cup.
"Even in England, the way our bowlers have dominated, it shows the regular flow of spinners and medium pacers in the team. Also, the confidence shown by the management is important for a youngster. There is no negativity, you can concentrate on your bowling."
India have been invincible in the ongoing six-nation tournament. They defeated Pakistan twice, besides notching up wins against Hong Kong and Bangladesh.
"We were positive from the start because the first match against Hong Kong was tough. Next we were playing Pakistan after a long time, the atmosphere was good."
"We haven't lost a match in this tournament, especially winning two matches against Pakistan will give us a boost ahead of the final," Chahal said.
It was only Chahal's second match against Pakistan.
Asked about his experience, he said: "Generally cricketers have a bucket list where you hope to play Pakistan one day but when we played them, it didn't feel that we were playing Pakistan, it seemed it's our own team only."
"When you go to the ground, it doesn't matter if you are playing Pakistan or England. It is all about being mentally strong and how much pressure you can deal with."
India have dominated Pakistan, both with the bat and the ball, but Chahal said the arch-rivals just had a bad day in office.
"Our batsmen put their bowlers under pressure from the start. They are playing the new ball well, they are taking their time and partnerships are getting longer," he said.
"On this wicket, you have to vary line and length. But they got mentally down as the match was slipping away, so the situation was different."
"Sometimes it happens, teams don't have a good day but they (Pakistan) are also a good team. So it is not a one-sided thing, the tournament is still not over."
Chahal, who has taken 5 wickets, including 2/46 against Pakistan on Sunday, in the four Asia Cup game so far, said he tries to bowl according to the wicket.
"I have bowled a lot in the Powerplay overs in T20 matches in IPL and for India. So it is not a new thing, I vary my pace and length according to the wicket," he said.
Asked about his interactions with Ravindra Jadeja, who made a comeback to ODIs with a 4 wicket haul against Bangladesh, Chahal said: "I am playing with Jaddubhai for the first time. He is a senior and experienced player. He reads the wicket well."
"I have played with Kuldeep (left-arm spinner Kuldeep Yadav) more. I discussed with Jaddubhai if I should slow the pace of my deliveries on this wicket, so all three of us discussed and planned accordingly."