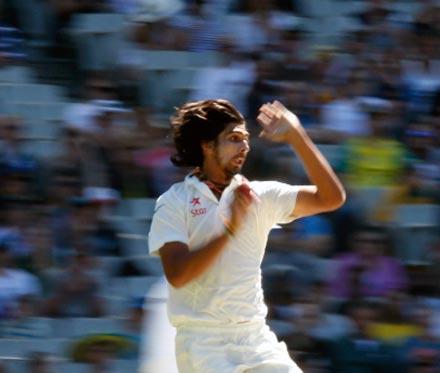 Bowling coach Bharat Arun said that India are in a comfortable position currently and targetting a first innings lead of around 100 runs, in the second Test match against Sri Lanka, in Colombo.
- PHOTOS: Colombo Test on even keel after thrilling Day 2

In reply to India's first innings score of 393, Sri Lanka ended second day's play at 140 for three.

"There is a long way to go in this game. But so far, we must be pretty happy. Our lower order has contributed quite well today and also we have kept them under check. We are probably looking for a lead of about 100 runs. If we get a lead of 100 runs on this track, it is beginning to wear and there were signs of spinners extracting some turn," Arun said.

The coach assessed that the pitch at the P Sara Oval is comparatively harder than the one at Galle.

"This track is a lot harder than what we had in Galle. So there will be more bounce, but maybe not as much turn. The pitch began easing out on day one itself and overnight unbeaten batsman Wriddhiman Saha rode his luck in the morning to score his second successive half-century.

"Then India made three inroads into the Lankan batting in remainder of the play, putting up a disciplined performance on a placid wicket. To be doing well in Test matches, you need to be bowling with a lot of discipline.

"This is something that we have worked really hard on. Today it was there for everyone to see. Restricting them to under-three an over, it was pretty good bowling," said the coach.

"After the Galle Test, we decided to make them work for every run. We reworked our fields and looked at the batsmen's strengths and these are the areas they were really scoring at. And we said we are going to plug those very areas where they are going to be looking for runs. So far it has worked well for us," he added.

Arun praised Stuart Binny's effort with the ball even though the all-rounder was unlucky not to get Kaushal Silva's wicket, who was caught behind off a no-ball.

"Stuart bowled exceptionally well today but again, it's a big lesson for him losing a Test wicket to a no-ball. You have got to get back and work so that you don't make the same mistake again. It's a costly lesson but yes, it is pretty good," Arun said.

The former India medium pacer also said that the support staff has worked on Umesh Yadav's consistency and it has started to show some results.

"Umesh has been bowling very well off late. He looked pretty impressive in the practice game and he had a certain few things we needed to work on for him to get more discipline.

"If you look at what he bowled in Australia, he came through spells where he was good and he could leak runs in between. So we had to work on Umesh to become a lot more consistent because he has the pace, he can move the ball and also he can reverse it with the old ball. That makes him a potent bowler provided you have a lot of discipline and that's exactly what we worked on," Arun signed off.
Image: India fast bowler Ishant Sharma.
Photograph: Getty Images