Mahendra Singh Dhoni's image of holding the World Cup trophy at Wankhede has been immortalised in cricketing folklore but not many know that Indian cricket's poster boy was once a ticket collector at the Kharagpur railway station.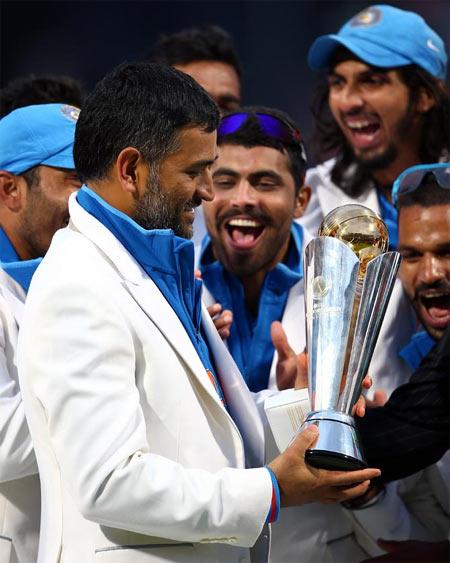 Son of Paan Singh and Devki Devi, Dhoni had humble beginnings and needed a job to sustain his cricketing pursuits, writes author and journalist Biswadeep Ghosh in his biography titled MSD, The Man, The leader, which traces the journey of this Ranchi boy.
The search of a job took Dhoni, who had already played Under-19 cricket for Bihar in the Cooch Behar Trophy, to the city of Kharagpur in West Bengal, best known for the Indian Institute of Technology (IIT) and the longest railway platform.
The late Animesh Ganguly, the then Divisional Railway Manager (DRM) of the South Eastern Railways (SER) and a cricket fanatic, was not only searching for a Train Ticket Examiner (TTE, usually referred to as a ticket collector) but also a cricketer who could fit into the SER team.
As luck would have it Dhoni not only cleared the TTE exam but also became an integral part of the SER cricket team.
It is difficult to imagine the Indian captain checking tickets but the book confirms that not only did the wicketkeeper-batsman carried out his duties with integrity but also made a name for himself while playing tennis-ball cricket in the sleepy town of Kharagpur.
Apart from the long hours at the station, Dhoni, it is written, also became quite a hit in tennis-ball cricket, also known as 'Khep' cricket in that region.
While playing for a couple of top clubs, Dhoni's appearance price was reported to be 2,000 Rs per match, while the author insists that the star did not haggle with the organisers.
Otherwise a quiet and focused lad, the book also narrates an episode of an angry Dhoni getting into a fight with his roommate Deepak while trying to decide which TV channel to watch.
The fight it said became so intense that it caused damage to the television and another roommate and friend Satyaprakash Krishna, who was responsible for him getting the job, had to intervene.
While Dhoni insisted on watching a Sharjah Cup match, Deepak was busy watching Amitabh Bachchan in Muqaddar Ka Sikandar.
The fight, it seems, was the only off-field action in Dhoni's four-year stay in Kharagpur. The rest was all about cricket as has been with Dhoni's life so far.
Image: Mahendra Singh Dhoni celebrates with his team after winning the ICC Champions Trophy in June 2013
Photograph: Paul Gilham/Getty Images