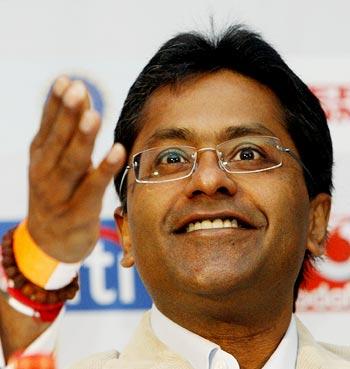 Indian Premier League (IPL) commissioner Lalit Modi confirmed that he has had talks with renowned filmmaker Madhur Bhandarkar to document his life.
Modi said that apart from Bhandarkar, he has been consulted by other movie makers. The IPL chairman told a television channel that it is a compliment that so many filmmakers are interested in making a movie on his life.
Modi said Bhandarkar has discussed options of making a movie with him, but added that he has not signed on the dotted line with anyone as yet.
Meawhile, Percept Movie Management MD Shailendra Singh claims to have entered into a deal with the IPL chariman and has also released initial promotional posters of the movie. Modi was in the news last month, when he and the IPL Governing Council asked the Board of Control for Cricket in India (BCCI) to take a final call on whether or not to terminate the services of IMG as an organiser of the event.
The IPL and the BCCI then reviewed the issue during the BCCI's working committee on September 24 and it was decided to extend the contract of the IMG subject to certain alterations. The decision was taken to end an alleged dispute between Modi and another BCCI official N Srinivasan.
Earlier, the BCCI's decision to terminate the services of the IMG from the IPL was seen as an attempt to clip Modi's wings. But with seven IPL franchises and even the former BCCI president Sharad Pawar throwing their weight behind Modi, the IPL Governing Council took the decision to take the matter before the BCCI Working Committee.
Pawar had expressed his disappointment in no uncertain terms in a letter addressed to Manohar.
"When I was the Board president, we signed a 10-year agreement with IMG to conceptualise, formulate and implement a new league along with Lalit Modi and the same was approved at all appropriate levels," he stated.
"IMG has been instrumental in day-to-day operations of the league and we should come to a suitable arrangement (with IMG). In IPL, there are many stakeholders and anything we do that may jeopardize their investments will show BCCI in a bad light. With the overwhelming success of the IPL, it is our duty to protect not only BCCI but also all its stakeholders," Pawar said.
Srinivasan, the BCCI secretary, was of the view that the IMG has been overcharging the BCCI, and therefore, its services should be terminated.