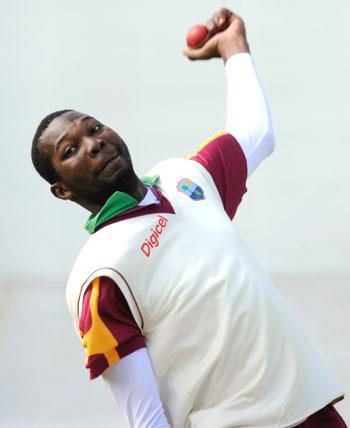 West Indies spinner Sulieman Benn was on Friday handed a two-ODI ban while Australia's Brad Haddin and Mitchel Johnson were let off with fines after being found guilty of conduct contrary to the Spirit of Cricket.
The players were involved in an ugly altercation during the third cricket Test between the two teams, on Thursday.
"West Indies spinner Sulieman Benn has received two suspension points while Brad Haddin and Mitchell Johnson have been fined 25 per cent and 10 per cent, respectively," an ICC release said.
Two suspension points in the enhanced code means a ban of one Test or two ODIs, depending whichever comes first for the player.
Hence, Benn will miss the first two ODIs against Australia in Melbourne and Adelaide on February 7 and February 9 next year respectively.
Benn was charged with an article 2.2.11 offence, while both Haddin and Johnson were charged with an article 2.1.8 offence. Both these offences prohibit players from conducting themselves in any way that is not in accordance with the spirit of the game.
For Level 2 offences players have the right to appeal against match referee's decision within 48 hours of notification of that decision, while for a first Level 1 offence the match referee's decision is final and binding.
The incident that led to the charges being laid took place during the 118th over of Australia's first innings. On the first ball of the over, Benn collided with non-striker Johnson while trying to stop the ball off his own bowling.
Two balls later, Haddin became involved when he pointed his bat at the bowler who had shaped to throw at the striker's end with the batsman standing in his crease.
The three players then got embroiled in a heated altercation at the end of the 118th over with the 28-year-old from Barbados pointing at the Australia wicketkeeper over the shoulder of Johnson.
The Australia players pleaded guilty at an early stage of the hearing, conducted by match referee Chris Broad, but Benn's hearing was held at the close of the second day's play after the spinner pleaded not guilty to the charges laid against him.
Broad handed down the punishment after looking at the video evidence of the incident and after conducting the hearing, which was attended by the on-field umpires Ian Gould and Billy Bowden, third umpire Asad Rauf and fourth umpire Rod Tucker.
The hearing was also attended by West Indies team manager Joel Garner and captain Chris Gayle.
Commenting on his findings, Broad said, "It was an incident which could have been avoided. No one likes to see cricketers pointing bats at their opponents or pushing each other away.