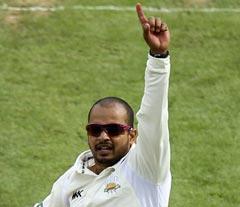 In one of the most ill-tempered domestic matches in recent times, Bengal and Railway players set a poor example of on and off-field behaviour, with the two umpires hardly being able to control the proceedings during the last two days of their Ranji Trophy encounter in Delhi.
If tension started with Railways captain Murali Kartik 'Mankading' Bengal's Sandipan Das at the stroke of lunch on the third day, it ended on a very sour note with Bengal players refusing the customary handshake with the Railwaymen at the end of the match, as the home team decided to continue playing all the mandatory overs.
This was certainly done by Railways to humiliate the Bengal team by keeping them on the field after they conceded the first innings lead and the match was over as contest.
In fact, when umpires asked the two captains whether they would like to stop the contest, it was Kartik who insisted on carrying on.
The 'Mankading' incident was in the 80th over of Bengal's innings, with the score 120 for three. Sandipan, batting on 19, had backed up at non-striker's end and Kartik whipped off the bails and appealed for a run-out (known as 'Mankading'). Umpire Milind Pathak referred to the television umpire and Sandipan was adjudged out.
'Mankading' is a term used to describe a dismissal when a bowler who is in the process of sending down a delivery runs out a batsman who has backed up a little.
The term was used after the Sydney Test in 1947, when Indian bowler Vinoo Mankad ran out Australian batsman Bill Brown, who had taken off from the non-striker's crease.
In the morning, the Railwaymen indulged in some mindless sledging, led by their captain. Kartik waited near the stumps when Ashoke Dinda came in to bat and gave him a 'warm reception' before umpire Milind Pathak intervened.
Such was the noise made by the Railways players that Laxmi Ratan Shukla even complained to the umpires, who told Kartik to control his slip cordon fielders.
Once Railways pacer Krishna Kant Upadhyay dismissed Dinda and last-man Shib Shankar Paul, he made an ugly gesture of kicking the Bengal player (Paul) up his backside, which immediately attracted the umpire's attention.
When Upadhyay was asked about the incident, he said, "It wasn't aimed at Maco (Paul's nickname), but I couldn't control my anger as Dinda had said something really abusive. We played in IPL for same team (Pune Warriors) and suddenly he becomes abusive."
Once the proceedings were over, Bengal's stand-in captain Dinda (leading in absence of injured Laxmi Ratan Shukla) and a few others didn't even shake hands with the two not out batsmen, Harshad Rawle and Nitin Bhille, as the other Railway players trooped out.
Watching this, match referee B Kalyansundaram immediately had a word with coach Ashoke Malhotra but the Bengal players went to one side of the field and started their 'cooling-down' drills without even bothering.
After a few minutes, Kartik led his team and went towards the Bengal team huddle where the boys were sitting.
To everyone's horror, none of the Bengal boys wanted to shake hands with the Railways players. As Kartik walked up to each and every player, they simply told the former India left-arm spinner to leave them alone.
Kartik and his boys then went back into the dressing room.
When Bengal captain Laxmi Ratan Shukla, who was in dressing room was asked about the behaviour, he defended his mates strongly.
"Sportsman spirit and spirit of the game is maintained on the field. It is not something you do differently on the field and then come and expect us to shake hands.
"If my boys don't want to shake hands after what all they did during the last two days, I can't blame them. As it is they were doing a cool-down exercise and told Kartik not to disturb them. If they want to shake hands, they should have waited," Shukla said, in a matter-of-fact manner.
But was it right to carry it this so far?
Shukla replied: "Was it right on their part to continue playing when the match was over as a contest? We hear that a lot of players (read Kartik) learn a lot of things sharing the dressing room with Sachin and Sourav... Leave it, I don't want to say anything."
His coach Ashok Malhotra also seemed to agree with the skipper, saying, "We didn't do anything. We just reacted to the situation that was in front of us."
Railways coach Abhay Sharma defended the team's decision to carry on batting when the match was over as a contest.
"We thought of giving Bhille an opportunity to complete his century as he was in 70s. It's a milestone and he deserved to get one. As far as the incidents are concerned, a lot of things happen at the heat of the moment and we should focus on how competitive the cricket has been," Sharma concluded.
Image: Murali Kartik