'I do not like him one bit'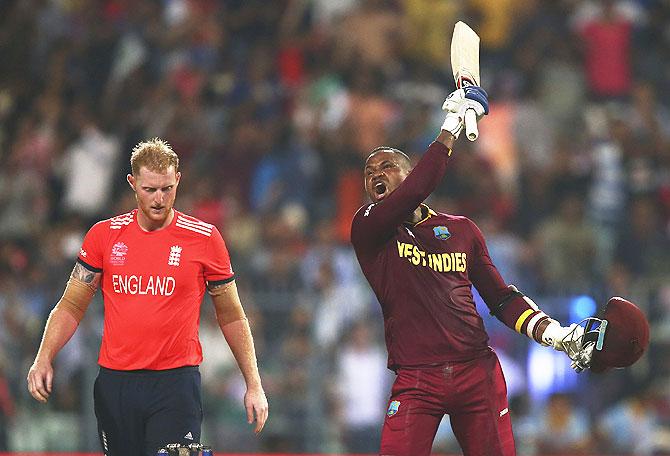 IMAGE: West Indies' Marlon Samuels celebrates after Carlos Brathwaite hit the second six of the last over as England's Ben Stokes looks on during their ICC World Twenty20 Final at Eden Gardens in Kolkata on April 3, 2016. Photograph: Ryan Pierse/Getty Images
England all-rounder Ben Stokes has launched a scathing attack on fierce rival Marlon Samuels in the latest flare-up of the personal animosity between the two.
In an extract from his book 'Firestarter' that was published in a leading UK-based daily, the 25-year-old has shed light on details of the infamous exchange with Samuels during World T20 final in Kolkata earlier this year.
An already strained relationship between both the players had frayed further when Samuels sledged the Englishman during the West Indies' stunning victory in the World T20 final.
Stokes said that the Jamaican's conduct during and after the final "showed a total disrespect for the game", adding that his rival should have refrained from indulging in character assassination.
The West Indies veteran batsman, who smashed a match-winning 85 not out, was later fined for using abusive and offensive language directed at Stokes after teammate Carlos Braithwaite hit the bowler for four successive sixes in the final over to seal the dramatic victory.
"Marlon's conduct after West Indies' victory ... showed a total disrespect for the game," Stokes wrote.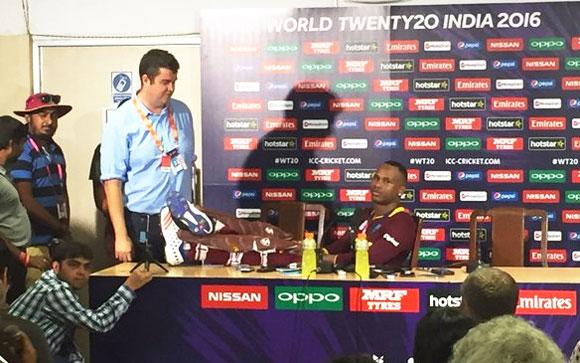 IMAGE: Marlon Samuels looks relaxed at the post-match press conference after the WT20 final. Photograph: Twitter
"Without removing his batting pads, Marlon walked into a press conference, sat down and placed his feet on the desk. Totally lacking manners.
"It didn't require him to give me a character assassination -- bizarrely claiming I am some sort of 'nervous laddie' -- to help me form the opinion that I do not like him one bit.
"I believe in the saying 'respect the game'. I don't think he respects the game.
"Yes, he played an unbelievable innings but, because of our personal history, it stops me short of saying he's a good player. Team players are the good players in my eyes."
The duo have been at loggerheads since last year when Samuels gave Stokes an infamous send-off after the all-rounder was dismissed in Grenada Test.
Speaking about his heartbreak following the dramatic final over, Stokes said he felt numb as those four deliveries from him affected his entire team.
"People will talk about Carlos Brathwaite hitting me for four consecutive sixes for the rest of my life. I can deal with that. What I couldn't handle was losing the game," he wrote.
"We had gone all the way to the tournament's final over. But in a flash, all that hard graft had come to nothing."