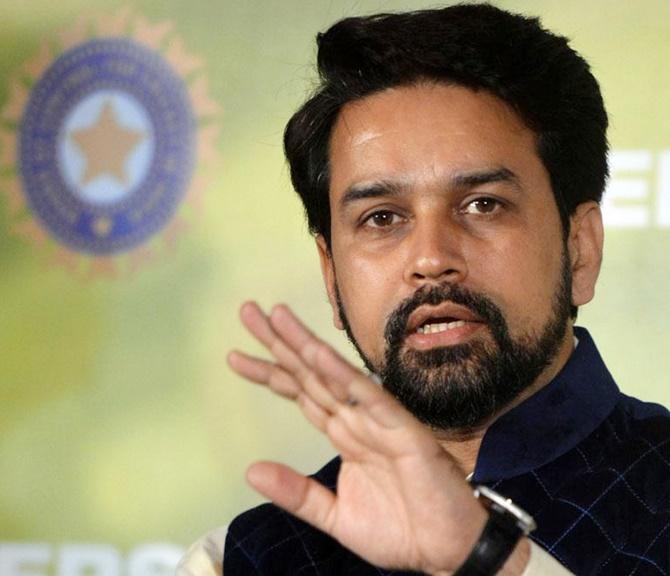 IMAGE: BCCI president Anurag Thakur. Photograph: BCCI
The Supreme Court on Friday adjourned the hearing regarding the Justice (Retd.) R.M Lodha-led committee's recommendations and the Board of Control for Cricket in India's (BCCI) constant reluctance to accept all recommendations till December 14.
Last week, the BCCI had conducted a Special General Meeting (SGM) to discuss as to how they would respond to the Lodha committee's demands for radical changes in the Indian cricket board.
Following the meeting, the BCCI's firm stance opposing Lodha panel recommendations continued, with secretary, Ajay Shirke revealing that the Board members will abide by the decision they had taken during the first SGM on October 1.
On October 1, the Board had accepted many of the "significant recommendations" of the Lodha Committee, however, it excluded the important ones which have been a bone of contention between the cricket body and the Lodha Panel.
The recommendations, which have still not been accepted by the 30-member committee, include one-state one-vote, age limit of 70 years, cooling-off period of three years which included the tenure of the administrators, continue with the five-selectors and retaining the powers of the president and secretary as per the earlier constitution of the Board.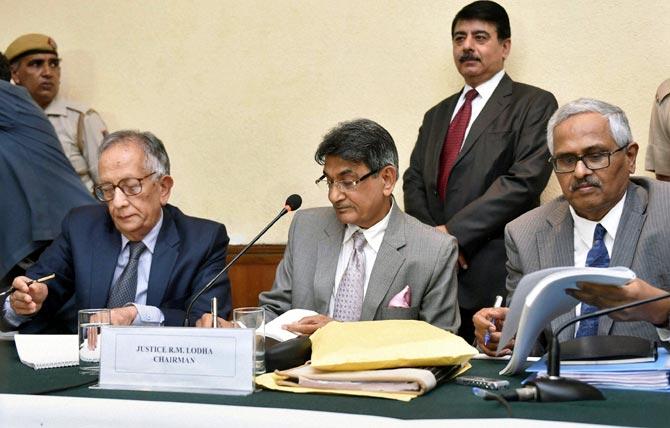 IMAGE: Justice Rajendra Mal Lodha, centre, chairman of the Supreme Court-appointed Lodha Committee with member Justice Ashok Bhan, left, and Justice RV Raveendran. Photograph: PTI
The BCCI has consistently argued that they have implemented many of the Lodha Panel's recommendations but their members have problems in implementing only some of them.
On October 21, the top court passed an interim order asking the BCCI to "cease and desist" from disbursing funds to state associations until the association gave a written resolution that it would adopt all the recommendations approved by the court.
The court also asked BCCI president Anurag Thakur and secretary Shirke to meet the Lodha Committee within two weeks from the date of that order and submit an "affidavit of compliance", elaborating on the recommendations already implemented by the BCCI and what it had done to persuade the state associations to adopt the remaining recommendations.
The three-member Lodha Committee was appointed by the Supreme Court after the 'conflict of interest' issue sparked a controversy in Indian cricket.
The Lodha Committee, in its first status report submitted to the apex court on September 28, had asked for the removal of the present set of BCCI office-bearers, to be replaced by a group of independent administrators.
In its third status report submitted on November 14, the committee altered the demand a bit, asking for the disqualification of office-bearers of the BCCI and all state associations, who become ineligible as per the apex court's July 18 order, and the appointment of former Union home secretary G K Pillai as "observer".