The unrecognised Cricket Association of Bihar chief Aditya Verma asked BCCI's interim president Sunil Gavaskar to clarify whether N Srinivasan attended an Indian Premier League meeting despite a Supreme Court order restraining him from participating in any Board activity.
- 10 facts you must know about BCCI chief N Srinivasan

Citing the Supreme Court order, which forced Srinivasan to step aside as BCCI president pending an inquiry into the IPL spot-fixing and betting scandal, Verma alleged that the Chennai-strongman conducted a secret meeting of the IPL Governing Council in Ranchi.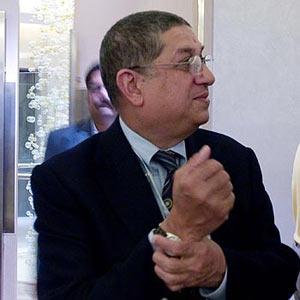 "Being a petitioner in this matter, I want your clarification regarding Srinivasan staying in Ranchi during the Chennai Super Kings and Rajasthan Royals match," Verma said on Wednesday.
- Why is Srinivasan sticking to his chair? It is nauseating: Supreme Court

"He also arranged a secret meeting with the GC of IPL and management of CSK in Ranchi with the help of the president of Jharkhand State Cricket Association who is a member of the GC of IPL. This is a serious issue and I want to know that are you aware of that meeting?" he asked.

"If you don't know then you have to take action against the involved persons," he added.
Image: N Srinivasan
Photograph: Ritam Banerjee/Getty Images