- Media reports had claimed on Sunday that BCCI was sent a letter by international cricket's governing body about Thakur being seen with an alleged bookie Karan Gilhotra
- 'Former BCCI president, N Srinivasan is trying to malign Thakur's image'
The Board of Control for Cricket in India is unlikely to act on the International Cricket Council's letter to its President Jagmohan Dalmiya in which it is alleged that Board Secretary Anurag Thakur was photographed with a suspected bookie during a function in Chandigarh.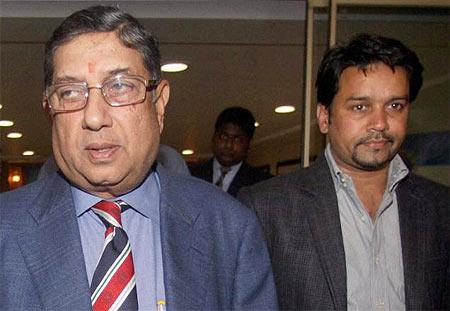 Media reports had claimed on Sunday that BCCI was sent a letter by international cricket's governing body about Thakur being seen with an alleged bookie Karan Gilhotra.
Thakur on his part has not made any statements on the controversial issue.
BCCI members are not treating the issue with seriousness because they reckon that this development is the handiwork of ICC Chairman N Srinivasan.
"Everyone knows who runs the ICC. Since skeletons of the N Srinivasan-run administration are tumbling out of the closet, the former president is trying to malign Thakur's image. There was absolutely no discussion at the Working Committee meeting and informally we all agree that Srinivasan is behind all this," a Working Committee member, who was present during four-hour long meeting on Sunday, told PTI.
When asked if Dalmiya will act on this ICC letter, the source said, "Dalmiya and Thakur share a nice working relationship as they together ousted Srinivasan from his hot seat. Also, we find it weird that just after CSK low price demerger was questioned, ICC came up with this letter," he said.
A member of the Srinivasan faction said the Tamil Nadu strongman knew well that the current dispensation won't do anything but this was his way of "retaliating".
"Richardson is just a messenger. He only carried his boss's instructions. Obviously, the battle is far from over. The more attacking Anurag gets with Srinivasan, the more counterattacks will come his way," the Srinivasan loyalist said.
Image: Former BCCI president and present ICC Chairman N Srinivasan (left) with board secretary Anurag Thakur
Photograph: PTI