- 'All is not well in DDCA and BCCI. There are serious difficulties which are affecting the functioning of these cricket bodies. Therefore reforms suggested by Justice R M Lodha-led committee should be implemented.'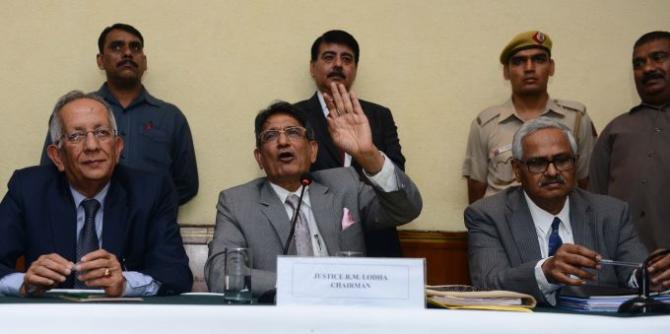 IMAGE: Justice Rajendra Mal Lodha, centre, speaks during a press conference in New Delhi in January. Photograph: PTI
Former India captain Bishan Singh Bedi and ex-cricketer Kirti Azad, on Thursday, batted in the Supreme Court for implementation of Justice Rajendra Mal Lodha committee's recommendations on structural reforms in the Board of Control for Cricket in India.

They also targeted the Delhi and District Cricket Association, which was headed by Union finance minister Arun Jaitley for 14 years till 2013, for alleged irregularities.
- Report of Lodha Committee on Reforms in Cricket - Final Report, Volume 1
- Report of Lodha Committee on Reforms in Cricket - Final Report, Volume 2
"All is not well in DDCA and BCCI. There are serious difficulties which are affecting the functioning of these cricket bodies. Therefore reforms suggested by Justice R M Lodha-led committee should be implemented," advocate Manish Tiwari told a bench, comprising Chief Justice T S Thakur and Justice F M I Kalifulla.

Jaitley was the DDCA president from December 1999 to December 2013.

Tiwari, appearing for Bedi, Azad and former cricketer Sameer Bahadur, said there are several reports against the functioning of the DDCA, including those of Serious Fraud Investigation Office (SFIO), the fact-finding committee and Justice Mukul Mudgal, which have pointed out to the deficiencies and irregularities in the affairs of managing the cricket matches.

"Justice Mukul Mudgal, who is former Chief Justice of Punjab and Haryana high court, was appointed observer for the India-South Africa match, in his report had said that the internal audit of DDCA pointed out shortcomings and financial irregularities," he said.

Tiwari, also a Congress leader appearing for Azad, who has been expelled from the BJP, said the trigger point for the Justice Lodha panel was the match-fixing and spot-fixing scandal in the Indian Premier League in 2013 and BCCI can't say that it is not amenable to rule of law.

"Monopoly and irregularities have perpetuated over the period of time in the functioning of BCCI and it needs to function in a manner by which the trust of people in the game of cricket is restored," Tiwari said.

He further contended that the country has over a billion population and if the system is opened up as recommended by the Lodha panel then BCCI can get more capable and efficient cricket administrators.

Tiwari alleged that there is no transparency in the elections to the cricket bodies, including DDCA, due to proxy voting and said, 'cricket in national capital is in a sorry state'.