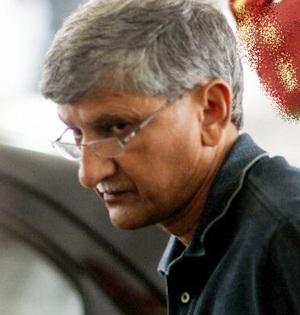 A source close to Supreme Court appointed Justice R M Lodha panel on Wednesday said that BCCI secretary Ajay Shirke could be held guilty of "defamation" for circulating a letter "attributing comments that were never made".
It was also learnt that BCCI is yet to submit its status report on Wednesday's AGM and the committee is looking into all the eight decisions taken at the meeting on Wednesday.
"The committee is considering it, but prima facie it looks on the face of it that all eight points are in violation of the Panel's recommendations," a source close to the Lodha panel told PTI.
However, the source was more attacking on Maharashtra business tycoon Shirke, who has apparently circulated a letter which states that Panel's secretary Gopal Shankarnarayan has allegedly made unsavoury remarks about the character of selectors.
The panel source said that Shirke could well be termed guilty of criminal defamation.
"Criminal defamation in or to the public at large impugning the reputation of someone specific. The only person who could be guilty of criminal defamation is the person, who made that statement to the public," the source explained.
"That statement was made by Ajay Shirke in the 'so-called letter' that he has circulated and made public where he has defamed the members of the (Lodha) committee and the secretary attributing statements that were never made.
"The discussions happened in private and all aspects of it behind closed doors have been addressed by the committee already," the source further added.
IMAGE: BCCI secretary Ajay Shirke.