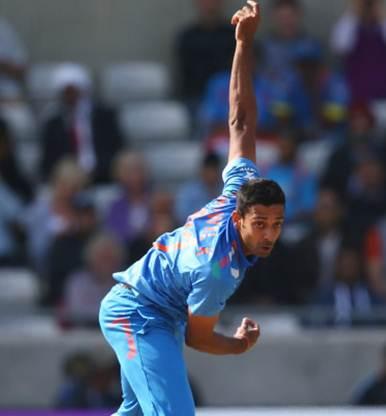 The Board of Control for Cricket in India paid the International Cricket Council around Rs 2.4 crore for various charges incurred for the Indian squad carrying "additional team members" during the World Cup earlier this year.
Mumbai pacer Dhawal Kulkarni was among the additional members in India's squad during the 2015 World Cup, in Australia and New Zealand.
ICC rules allow only 15 members to be registered as players in a World Cup tournament.
India had listed Kulkarni, who stayed on with the team at the conclusion of the preceding ODI tri-series, as part of the team management, according to news reports then.
The amount, US $3,70,111.96 that has been converted to Rs 2,43,500,36 at the conversion rate of Rs 65.791 to a dollar and paid to the ICC as payment towards "airfare, accommodation, per diem and catering charges incurred for additional team members during ICC CWC 2015," read a note on the Board's website.
These details were put up on its official website under the sub-heading over Rs 25 lakh payments made by the Board to various parries in last month.
The BCCI also paid the world cricket body an additional amount of US $3,80,000 (Rs 2,49,56,500 at the conversion rate of Rs 65.675 to a dollar) "towards ACSU services for IPL 2015".
The BCCI also listed amounts paid towards reimbursement of infrastructure subsidy claims to Maharashtra Cricket Association (Rs 11.20 crore) and Karnataka CA (Rs 67 lakh).
The Orissa and Himachal Pradesh Cricket Associations were paid Rs 8.43 crore each "towards advance amount due to associations as per approval of WC (Working Committee) meeting 18/10/2015 and AGM held on 9/11/2015".
An identical amount was paid to the Andhra CA as "additional advance against amount due to Associations as approved in WC and against ODI staging as per AGM approval", while Rs 6.75 crore was paid under the same provision to Saurashtra CA.
An identical amount of Rs 6.75 crore was given to Maharashtra CA as "advance" under the same provision while the Delhi and District Cricket Association was given an amount of Rs 2.81 crore as "advance against amount due to association out of media rights income for 2013-14".
Goa CA received Rs 5.60 crore under provision "amount transferred towards amount due".
Retired cricketer Zaheer Khan was paid Rs 81.12 lakh "towards loss of play for IPL 2014".
Tour and match fees along with retainers were also paid to current cricketers Harbhajan Singh, Umesh Yadav, Ajinkya Rahane, Murali Vijay and Rohit Sharma while former India captain Sunil Gavaskar was given commentary fees for the period between July and September 2015.
Image: Dhawal Kulkarni
Photograph: Getty Images