A day after Board member Jyotiraditya Scindia asked N Srinivasan to step down, the pressure increased on the BCCI chief.
- 'Bindra should take over from Srinivasan as BCCI prez'
- Srininivasan should step down: Scindia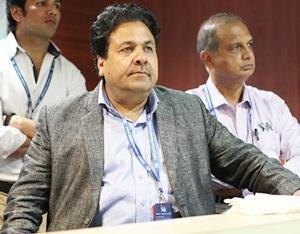 On Wednesday, other senior Board members, Rajeev Shukla and Arun Jaitley, asked Srinivasan to stay away till the pending inquiry against his son-in-law Gurunath Meiyappan is completed.
"I along with Mr Jaitley feel that it would be good if he (Srinivasan) stays away from this investigation procedure. We have suggested this to Srinivasan, but the decision is up to him whether to take our advice or not," Shukla said after meeting Jaitley in New Delhi.
"We discussed the matter with Board members and we spoke about the Board's and cricket's image as well. However, Srinivasan has also told us that he is not at fault and shouldn't be punished for son-in-law's fault," he added.
Shukla also informed that a three-member inquiry committee, which is probing Meiyappan and the allegations against three Rajasthan Royals players and its franchise as well as the Chennai Super Kings, will work independently, and BCCI will not interfere in investigation procedure.
"A probe committee has been set up and we wanted independent members. Therefore, we have brought in two judges who will probe the issue," Shukla said.
"We want an impartial probe and all the guilty should be strictly punished. We are waiting for the probe report now," he added.
The three-member committee comprises Justice T Jayaram Chouta, former judge of the Karnataka and Madras high courts, Justice R Balasubramanian, former judge of the Madras high court, and BCCI secretary Sanjay Jagdale.
Photograph: BCCI