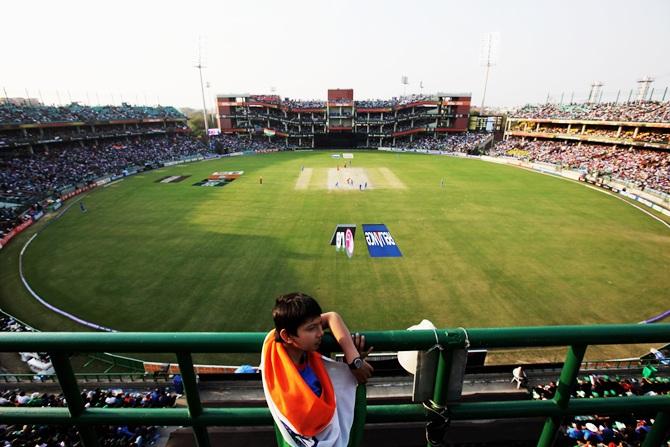 IMAGE: New Delhi's Feroz Shah Kotla cricket ground. Photograph: BCCI
The Board of Control for Cricket in India (BCCI) has decided to give a day's extension to the beleaguered Delhi & Districts Cricket Association (DDCA), whose officials are set to meet LG Najeeb Jung and urban development minister Venkaiah Naidu regarding the requisite permissions for T20 Internationals against Sri Lanka at the Feroz Shah Kotla on February 12.
The association will be making a payment of Rs 83 lakh to Land and Development Office (L&DO) that falls under central government as a part of the assessment fee of the lease.
"BCCI secretary Anurag Thakur has given us extension till Thursday, 5 pm. We are very hopeful about getting the requisite compliance certificates and within the next couple of days would procure most of them. In that case, we might ask BCCI to give us few more days of extension," DDCA treasurer Ravinder Manchanda said.
It was also learnt that working president Chetan Chauhan has signed the plea wherein they would seek compliance certificates from the Fire, Electricity and Entertainment departments that falls under state government.
"We will move our plea tomorrow," Manchanda said.
Also DDCA officials will be meeting LG Najeeb Jung, who is the chairman UTTIPEC regarding certain certificates that are required regarding traffic safety.
The DDCA officials will be meeting Urban Development minister Naidu as the L&DO department is under his wing.